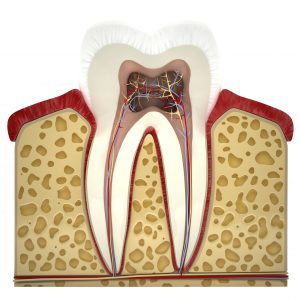 No doubt you've probably heard someone jokingly say, "Ugh, I'd rather have a root canal," when faced with something they really don't want to do. Well, the dentists at 21st Century Dental & Sleep Center in Irving, TX, are here to tell you that if you have a tooth with nerve damage, then a root canal is the best thing you can do to save the tooth and avoid extraction.
Let's examine the construction of the human tooth to understand how a root canal becomes necessary. Each one of your teeth is made up of three layers. The layer that everyone sees when you smile is enamel, which is a very hard substance that is also translucent, so your teeth have an attractive sheen. The layer underneath enamel is dentin, a soft and more porous material that is filled with microscopic tubules. Finally, at the center of each tooth is the pulp chamber, where a tooth's nerve, blood and lymph tissue are housed. The pulp chamber branches off to root canals that lead to the tip of each tooth.
As you might guess, the pulp chamber is normally well protected by the enamel and dentin layers. However, in the case of severe decay or traumatic injury, the chamber can be exposed to bacteria. As a result, infection can set in and the tissue inside of the chamber dies. The most recognizable symptom of an infected tooth is extreme pain. Other symptoms include swelling on the side of the face, a sensitive tooth, painful gum tissue, pus in between the tooth and gum and a fever.
A Root Canal in 75038
If you are experiencing any of the symptoms mentioned above, please call 21st Century Dental & Sleep Center
immediately. An infected tooth not only threatens your oral health, but your general health as well if the infection should happen to spread.
One of the dentists in our office will access the pulp chamber and remove the tissue, infection and any accompanying debris. The chamber and canals are disinfected and filled with an inert substance that expands to prevent re-infection. Then the chamber is sealed and the tooth is protected with a dental crown.
Contact Our Office Today
If you suspect that you might need a root canal, then call 21st Century Dental & Sleep Center for the restorative dentistry Irving, TX, residents rely on for smiles that are healthy. We also serve patients from Arlington, Las Colinas and Grand Prairie and the surrounding areas.