Emergency Dentist for Las Colinas
Let Us Help You Get Out of Pain… Fast!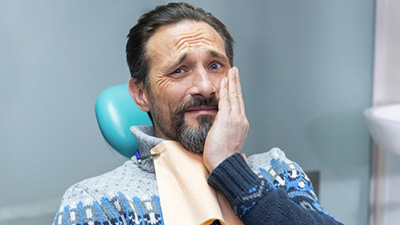 If you're experiencing severe mouth pain and/or have badly injured one or more teeth, the 21st Century Dental team will see you right away. After all, the last thing you need in a dire situation like this is to be told that your dentist can't fit you in for another week! Here in Las Colinas, our office environment is ideal for emergency cases – comfortable, attentive, and free of any unfair judgment. We simply want to help you regain a healthy, pain-free smile in record time. You don't have to wait – contact us today!
Why Choose 21st Century Dental for Dental Emergencies?
Same-Day Emergency Appointments Available
Open Early at 7 AM, Monday through Friday
Team of Highly-Trained Dentists in One Location
Most Common Dental Emergencies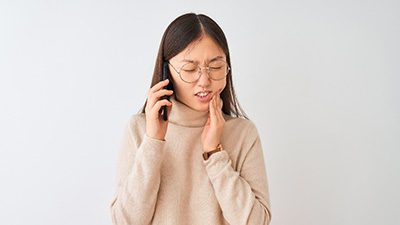 So what exactly counts as a dental emergency? Many patients aren't sure when they call our practice. Below, we've compiled a list of the most common emergency situations that our team handles. If you fit into any of these categories, don't wait to schedule an emergency appointment. Your smile needs help now.
Dislodged tooth. This emergency may happen on a partial basis (where the tooth feels loose or out of place in the mouth) or as a full knock-out. If it's the latter, do your best not to lose the tooth, as reattachment may be possible.
Cracked, chipped, or fractured tooth.
The loss of a temporary or permanent dental restoration, such as a crown, bridge, or filling.
Serious tooth pain, which usually indicates an oral infection that will require root canal therapy to correct.
How to Handle a Dental Emergency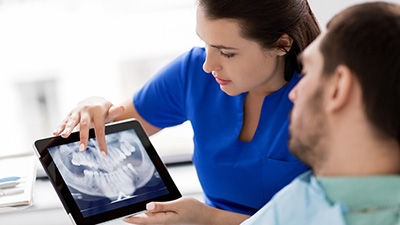 Does your tooth really, REALLY hurt? Try rinsing your mouth with warm water and using floss around the affected tooth, just to make sure there isn't something stuck there that's causing the pain. You can take aspirin or a different painkiller, but NEVER place it against the gum tissue near the tooth. It could cause burning.
Have you broken your tooth? Save any big pieces that have come loose. If you're bleeding, get a piece of gauze and apply pressure to the area until it stops. Facial swelling may happen, but using a cold compress can help keep it to a minimum.
Have you knocked out your tooth? If you still have the tooth, try to put it back in its original socket and hold it there. If this isn't possible, put it in a cup of milk or water with table salt. Keep the time in mind – your best chances for reattachment are if you're able to get to our dental practice within one hour of the initial injury.
Are you experiencing heavy, sustained bleeding? Could your jaw be broken? These are severe, life-threatening situations that need to be addressed by medical doctors. Go to your nearest emergency room or call 911 if you can't transport yourself.
Dental Care for Emergencies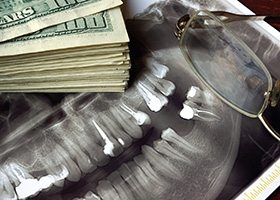 We understand that dental emergencies can be a very frightening experience – that's precisely why our team devotes plenty of time to these patients in order to help them feel genuinely safe and at ease in our Las Colinas practice. 21st Century Dental features a comprehensive variety of advanced restorative services, an exceptionally knowledgeable team of dentists and staff, the latest in oral healthcare technology, and next-level amenities that will all be available to you during your urgent appointment. Rest assured that you will be in very good hands throughout the recovery process.
Dental Emergency FAQs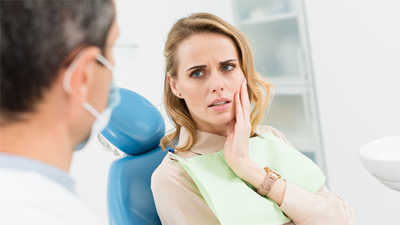 At 21st Century Dental, our specialized team of professionals want to ensure you receive the highest level of quality care, especially when you need it most. When a dental emergency occurs, it is important that you have the tools and information needed to handle a situation calmly until you are able to visit our office. Unfortunately, while some accidents can be prevented, dental emergencies have a way of happening at inopportune times. To make sure you are prepared, review the following list of dental emergency FAQs. Should you have any additional questions, don't hesitate to contact our office.
What is considered a dental emergency?
What you might consider as something harmless or minor might actually be damaging to your oral health. While the pain from a toothache may be something you can handle with over-the-counter pain medication, there are other ways to tell if what you are experiencing constitutes an "emergency."
If you notice any of the following signs or exhibit these symptoms, call our office immediately:
Knocked-out tooth
Cracked or broken tooth
Swelling
Severe pain
Bleeding
Oral sores
Abscess
Loose or lost crown or filling
At 21st Century Dental, we offer same-day emergency appointments. If we are unable to see you immediately, rest assured that our team will evaluate the situation based on the information you provide and walk you through the steps to care for your emergency at home until we can see you in our office.
How do I know if I need to go to the hospital or the dentist?
This is a difficult question for many people, as the hospital is the obvious go-to location for emergencies. Only in situations of uncontrollable bleeding, broken or fractured jaw, severe abscess or infection do you need to visit your ER immediately. Otherwise, your dentist will be the best person to officially diagnose and treat your injury. Not only do they have the expertise and specialization, but they can offer more personalized treatment than the hospital.
When is a root canal necessary?
Your tooth hurts, and it's not because of a sinus infection or lodged food. You've taken over-the-counter pain medication, but it's not helping. What do you do? If the pain in your tooth has reached the inner layer known as the pulp, it means the tooth is decayed or infected. The only way to find relief is to have a root canal. This procedure will safely and effectively remove the infection and eliminate the severe pain you're experiencing.
Will my insurance cover dental emergencies?
Everyone's insurance plan is different, so to offer a "yes" or "no" is impossible. It's best if you review your dental insurance policy to see what it states about dental emergencies. If you are unsure of what to look for or are having trouble finding the right information, don't hesitate to ask one of our staff members for help. We are happy to assist in reviewing your coverage and further explain what is and what is not covered by your insurance company. We will also file any claims to ensure that you get the most out of your insurance benefits and minimize any of your out-of-pocket costs.