Your Cosmetic Dentist in Irving
Your oral health is a main priority for us -- but we are equally concerned with the appearance of your smile. That's why your dentist in Irving is pleased to offer a number of cosmetic treatments in addition to general and restorative dentistry. These include porcelain veneers, Invisalign clear aligners, all-ceramic restorations, and even full mouth reconstruction. Keep reading to learn more about your options in cosmetic dentistry -- we can't wait to help you love your smile!
Porcelain Veneers & Lumineers
For healthy but cosmetically flawed teeth, porcelain veneers and Lumineers offer a wonderful solution. They work by simply covering up the imperfections -- masking the chips, cracks, or discoloration that cause you to hide your smile and leaving only beautiful white teeth in their place.
Porcelain veneers are completed over the course of just two visits to your dentist's office and can last for up to 20 years with proper maintenance. Lumineers are a special type of veneer that does not require the removal of any tooth enamel in advance of placement, meaning you can return to your natural smile at a later date if you wish.
Learn More About Porcelain Veneers
Invisalign Clear Aligners
Invisalign aligners offer a clear alternative to visible metal braces. The trays are custom-fitted to your unique dentition. Wear each set for one to two weeks, depending on our recommendation, before advancing to the next in the series. Each aligner should be worn for 20 to 22 hours per day, removing them to eat, drink, and brush and floss your teeth.
Most Invisalign treatment cases last between one to two years. The total length of yours will depend on the severity of your misalignment and how well you comply. Losing an aligner or failing to wear them for the recommended time will result in delayed treatment times.
Zoom! Teeth Whitening
One excellent way to rejuvenate a smile without having to invest in longer or more costly procedures is with professional teeth whitening. The Zoom! Whitening systems lifts stains to leave teeth up to 8 shades brighter after just one visit to your dentist's office. We will isolate your teeth, apply the bleaching gel, and then place a high-powered light over the teeth in three 15-minute intervals. At the end of the treatment, your teeth should be dazzling white -- and the results can last for years and years with proper hygiene and maintenance.
Learn More About Teeth Whitening
Snap-On Smiles
Patients who are unable to undergo surgical cosmetic procedures or who wish for an instant solution for imperfect teeth can often benefit from a Snap-On Smile. It's just what it sounds like -- an immediate solution that you snap directly over your cosmetically-imperfect smile. This can also be a good preview for patients who are curious what porcelain veneers might look like.
Learn More About Snap-On Smiles
All-Ceramic Restorations
Teeth that are functionally damaged as well as being cosmetically flawed need a solution that renews beauty while also bringing back strength and health to the tooth. An all-ceramic crown or bridge can come to the rescue! This method is especially effective for damaged front teeth, where aesthetics are a primary concern.
Learn More About All-Ceramic Restorations
Full-Mouth Reconstruction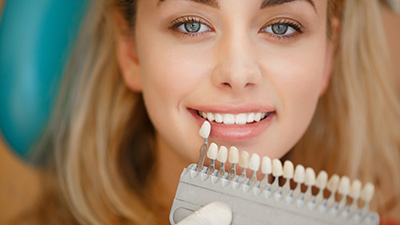 Patients who have suffered significant damage to their smile may require a comprehensive solution -- and the full-mouth reconstruction is just that. This is a way for your cosmetic dentist to combine several services into one treatment plan. The total time and cost will depend on the treatments being performed. Many full-mouth reconstructions include dental implants, crowns, bridges, teeth whitening, and/or porcelain veneers.
Request an Appointment Today!
Don't wait around guessing whether or not you can benefit from cosmetic dentistry -- we want to help you enjoy all the benefits of healthy teeth AND a more beautiful smile! You are invited to request an appointment at 21st Century Dental today.