Porcelain Veneers Perfect Irving Smiles
Enhancing Smiles That Last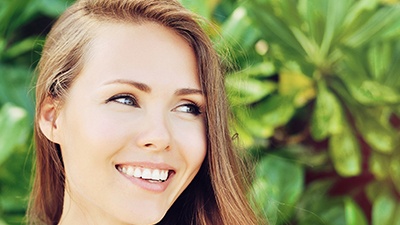 Are you interested in giving your smile a full makeover? Porcelain veneers are an excellent cosmetic method for achieving comprehensive improvements, as they are designed to cover the visible surfaces of natural teeth all at once with an attractive and functional replacement. Misshapen teeth, stubborn stains, gaps, crookedness, cracks – all of these flaws and so many more can be beautifully corrected! Our 21st Century Dental of Irving dentists look forward to getting started, so don't hesitate to contact the practice for a consultation.
Why Choose 21st Century Dental of Irving for Porcelain Veneers?
High-Quality, Metal-Free Materials
100% Customized Improvements
Decades of Time-Tested Training & Experience
Benefits of Porcelain Veneers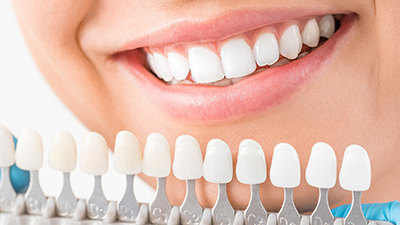 Have you ever wished you had better-looking teeth without all the hassle of braces (orthodontics) or crowns (caps)? NOW YOU CAN! Porcelain veneers are the answer for instant orthodontics to straighten smiles, close spaces, reshape, and accomplish minor realignments of your teeth. You can even have that "Hollywood" smile you've always wanted.
If you are concerned about what porcelain veneers cost, we think you will be pleasantly surprised. A free cosmetic consultation is waiting for you!
What are Porcelain Veneers?
Veneers are very thin and are bonded on the front of your anterior teeth. These veneers are about 0.3mm to 0.5mm in thickness but have a durable functionality once bonded to your teeth. Their lifelike appearance combines with the strength, beauty, and durability only porcelain restorations can afford. Veneers have several advantages over crowns (caps). There is no "dark line" that is sometimes seen with older front caps. They transmit light better and, therefore, have a more translucent appearance that results in a natural, esthetic look. Veneers do not require the massive grinding of tooth structure that caps do and accomplish a beautifully gorgeous final result.
What Can I Expect During a Porcelain Veneers Procedure?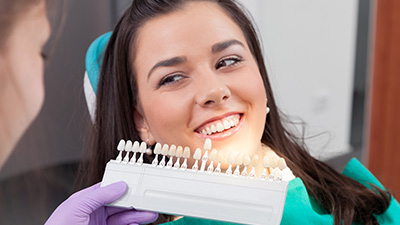 How's it done? After a thorough discussion with us to establish just what you wish to accomplish AND establish what can or cannot be done, your first appointment usually involves some minor contouring of the front teeth and taking an impression of the teeth. The veneers are placed and, if satisfactory, bonded in place. A follow-up visit is made in a week. The results are instant and spectacular! Many times, we combine whitening with porcelain veneers to make that perfect smile. If some front teeth are already badly broken down, we can place new, all-porcelain crowns combined with veneers and other cosmetic techniques. In most cases, we can give you that smile you have always wanted.
Understanding the Cost of Veneers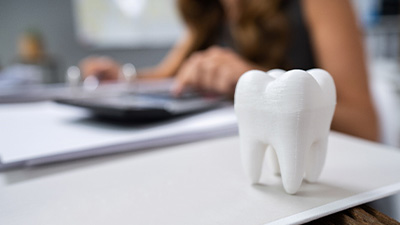 Don't like what you see every time you smile in the mirror? If so, you may be thinking about getting veneers to improve the appearance of your pearly whites. Before moving forward with the process, you likely want to know how much it'll cost. It's worth noting that when it comes to dentistry, you'll always get what you pay for, and quality work is incredibly important. While veneers can be costly, it's an investment that pays itself off in the long run. Below, you'll learn about the cost of veneers in Irving and how you can choose the right cosmetic service for your unique needs.
Cost vs. Cosmetic Dentistry: What's Right for Me?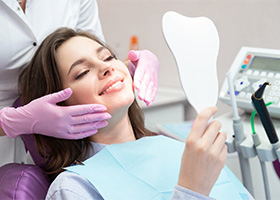 Even if you have your heart set on getting veneers in Irving, you should take the time to explore all your available options. Different cosmetic services can enhance your smile in different ways. These treatments can deliver stunning and long-lasting results at varying price points.
Let's take a closer look at some of the most popular services we offer:
Teeth Whitening – If you want to change the color of your smile, you may want to consider professional teeth whitening. It's a relatively fast and cost-effective way to achieve your desired look. However, it cannot help with tooth shape or position.
Invisalign – You no longer have to subject yourself to the hassle of metal wires and brackets if you want to straighten your teeth. These days, you can get a perfectly aligned smile with Invisalign clear aligners. Of course, it can be a significant investment for a treatment that doesn't address the color or shape of your teeth.
Cosmetic Bonding­ – Do you have minor dental imperfections? Cosmetic bonding might be right for you. Not only does it provide quick results, but it's one of the most affordable treatment options. Keep in mind that results don't last very long, which means this treatment will need to be redone every few years.
Veneers – While veneers are the most expensive option, it's the only treatment capable of transforming every aspect of your smile at once. In just a few short appointments, you can have your dream look! Best of all, you can expect your new smile to last several years with proper maintenance.
How to Make Veneers Affordable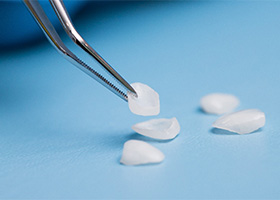 Since veneers are a cosmetic service, they're typically not covered by dental insurance. You'll need to find an alternative way to pay for this treatment. Fortunately, our practice offers third-party financing via CareCredit, Lending Club, and Compassionate Finance. These payment plans allow you to split up the overall cost into smaller monthly installments, often with little-to-no interest attached. If you'd like to get started with the application process, we're more than happy to assist you!
Porcelain Veneers FAQs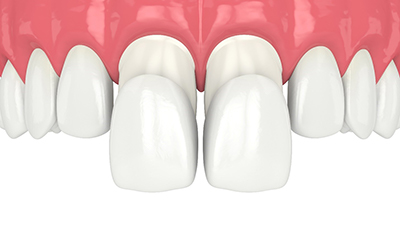 Porcelain veneers could be the answer to any insecurities you might have about your teeth, but you'll probably still have a few concerns regarding whether the treatment is right for you. On this page, you'll find the answers to many of the questions that our team at 21st Century Dental of Irving have received regarding veneers. Take the time to read this page and think of a few questions of your own that you can ask during your next consultation.
Can Porcelain Veneers Be Removed Later?
Before you commit to getting porcelain veneers, you should know that the treatment is permanent; you will not be able to have them taken off later unless the underlying tooth requires treatment of some kind. During veneer placement, small amounts of enamel are removed so that there's enough space for a restoration. This is an important step since the tooth in question will end up looking unusually bulky compared to the rest of the smile if the proper adjustments aren't made first. Because of that, though, some of the tooth's structure will be permanently lost, making veneers or crowns a necessity from then on.
Is the Procedure Uncomfortable?
Given the preparations that are required at the beginning of the process, it's often assumed by anxious patients that it will hurt when they receive their veneers. The good news is that 21st Century Dental of Irving is committed to your comfort at all times. We'll take every possible step to help you feel completely at ease before beginning your treatment; this might include using complimentary nitrous oxide to relieve any dental anxieties or phobias you may have. Also, your mouth will be numbed so that you won't feel any pain during preparation or placement. You should be able to return to work or drive yourself home with no problems afterwards.
How Long Will Veneers Last?
Veneers are very durable and can last for many years – about 10 to 15 on average. They will need to be replaced eventually, but you can make your current set last as long as possible with proper maintenance. That means brushing your teeth regularly with a soft-bristled toothbrush and non-abrasive toothpaste. You should also wear a mouthguard at night to stop you from clenching or grinding your teeth while you sleep. Return to your cosmetic dentist at 21st Century Dental of Irving every six months for a checkup; that way, we can catch problems with your veneers as quickly as possible.
How Do I Know If I'm a Good Candidate for Veneers?
There are actually multiple reasons why you could be eligible by veneers. You could have damaged teeth, a misshapen smile, sizable gaps, or stains that won't respond to whitening; you might even suffer from a combination of these issues. Veneers can be an excellent solution if you want to address all of these flaws at once and make significant changes to your appearance with a single cosmetic treatment. Note that your teeth and gums need to be healthy before we can begin the process.