Dental Services in Irving
We Can Help Everyone Smile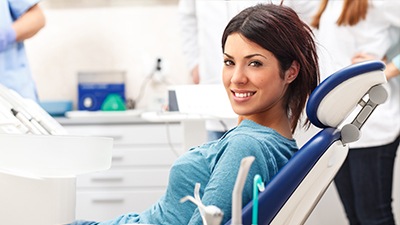 Maintaining excellent oral health and happiness is a goal that lasts for life, and there can be plenty of twists and turns on this road. Maybe you've broken a tooth or lost it altogether due to an unlucky stumble. Maybe your smile has become dull or stained over time, making it difficult to feel truly confident in professional and personal settings. Maybe you've stayed away from the dentist's office for too long because of a bad experience when you were young. Whatever your personal situation and circumstances are, 21st Century Dental of Irving has the services needed to help patients achieve positive, lifelong changes – not just for their teeth, but for their overall quality of life as well!
Here in Irving, patients can look forward to being appreciated and listened to throughout every step of the care process. You're always in the driver's seat when it comes to developing the ideal treatment plan for your needs and desires. To schedule a first appointment with our dentists, please contact us today.
Why Choose 21st Century Dental of Irving?
Team of Experienced and Dedicated Dental Professionals
Comprehensive Services for General and Complex Needs Alike
State-of-the-Art Dental Techniques & Technologies
Tell us a Little More About

Why You're Looking for a Dentist...