Dental Implants — Irving, TX
Seamlessly Completing Confident Smiles
Tooth loss negatively impacts much more than just the way your smile looks. Missing one tooth, several teeth, or all your pearly whites can take a big bite out of your self-esteem, biting strength, and overall quality of life. At 21st Century Dental of Irving, we're dedicated to seamlessly completing confident smiles with the best tooth replacement option available: dental implants in Irving. This state-of-the-art treatment can rebuild your smile so that it looks, feels, and functions just like new! To see how dental implants could change your smile and your life, contact our Irving, TX practice for a consultation today!
Why Choose 21st Century Dental of Irving For Dental Implants?
Entire Dental Implant Treatment Completed Under One Roof
State-of-the-Art Technology for Precise, Long-Lasting Results
Team of Several Highly Trained & Experienced Oral Surgeons
What Are Dental Implants?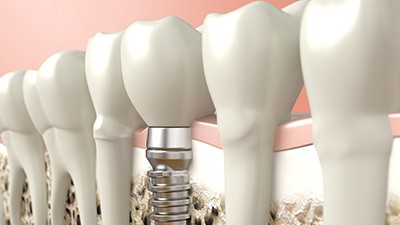 Dental implants are comprised of two main parts in order to replace the entire structure of a missing tooth. The first part is the dental implant post, which is typically made of biocompatible metal called titanium. The second part is a custom-made restoration that is carefully designed to blend in seamlessly with your remaining healthy teeth. Depending on how many teeth you're missing, this restoration could be a crown, bridge, partial, or denture. The two components are fastened together via a small connector piece called an abutment.
Unlike other tooth loss solutions that only replace the visible portion of a missing tooth or teeth, dental implants can rebuild your smile both above and below the gumline. The dental implant post is inserted directly into the jawbone to replace the roots of a missing tooth. Not only does this provide your new teeth lifelike comfort and stability, but it protects your healthy teeth and keeps your jawbone healthy. The custom-made restoration on top will be precisely crafted out of dental porcelain, which is renowned for how much it resembles the appearance of natural tooth enamel.
The 4 Step Dental Implant Process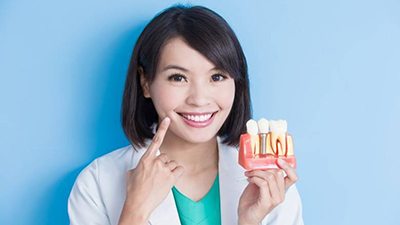 Unlike other tooth replacement options, getting dental implants in Las Colinas is a multi-step process that's completed over the course of several months. While this may seem like a long time, it's important to keep in mind that the results have the potential to last a lifetime. During your consultation, we'll go over your entire treatment plan so you'll know exactly what to expect. In general, there are four main stages: the consultation, the surgery, osseointegration, and placement of the final restorations.
Initial Dental Implant Consultation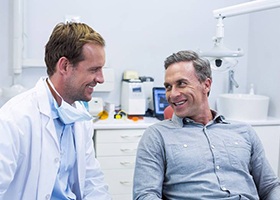 Your first step will be to come visit us for a consultation. We'll carefully review your medical history and examine your mouth, which will typically include X-rays and CT scans of your jaw. Issues like untreated tooth decay, gum disease, or inadequate jawbone density will threaten the success of your dental implant treatment. If any problems are detected, we'll work with you to schedule the necessary preliminary treatments, such as a tooth extraction or bone grafting, before moving on. Once you're considered a good candidate, we'll work with you to design a custom treatment plan and answer any questions you may have about dental implants.
Dental Implant Surgery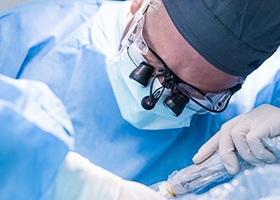 Next, we'll schedule your dental implant surgery with one of our implant surgeons: Dr. Jeff Roy, Dr. Ashley Bristow, or Dr. Andrew Barnett. Most other practices need to refer their patients to an outside specialist for this step of dental implant treatment, but that's not the case here at 21st Century Dental of Irving! Our talented team has years of advanced training and experience in implant dentistry and can perform your entire procedure in-office from start to finish.
We'll apply local anesthesia to ensure your comfort during the surgery, and we are pleased to offer sedation options as well to help you feel relaxed. Then, your oral surgeon will make an incision in your gums to expose the jawbone. Your dental implant or implants will be placed into pre-determine places in the bone tissue. Then, the gums are closed, a protective cap is placed over the post, and you'll be sent home to heal.
Dental Implant Osseointegration & Abutment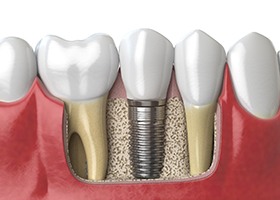 After your dental implant placement surgery, you'll need to wait three to six months before moving onto the next step of your treatment. While it will only take you a few days or weeks to recover from your procedure, your jawbone will need much more time to heal. Over the coming months, a process known as osseointegration takes place, where the dental implant and bone tissue fuse together.
Once it's done healing, you'll have a strong, stable foundation for your new replacement teeth. However, before your restoration can be placed, you'll need to undergo one more minor surgery to expose the top of the dental implant and have a small connector piece called an abutment placed. During this appointment, we'll also take impressions of the area to create your restoration.
Delivery of Dental Implant Restorations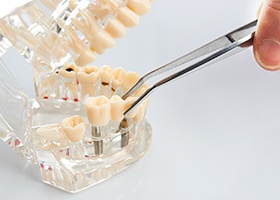 When your custom-made crown, bridge, or denture is ready, you'll return to our office for the final step of your treatment. We will securely attach your restoration to the implant via the abutment and check to make sure that your bite feels comfortable. After ensuring that you're happy with your results, you'll be ready to go out and enjoy your newly rebuilt smile!
Benefits of Dental Implants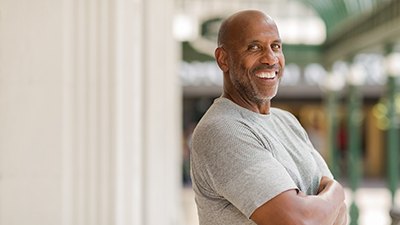 Before you start your complex dental implant tooth replacement plan, we want you to understand what makes this restoration option so unique. The benefits of these tooth replacement options make them well worth the investment, which is why we recommend them for nearly all our Irving patients who suffer from tooth loss. In fact, dental implants are widely regarded as the gold standard of tooth replacement because of all the unique and important benefits they provide.
Lifestyle Benefits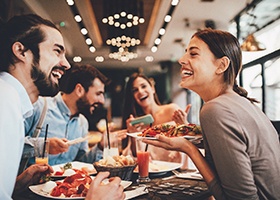 Many denture wearers (roughly one-third, according to one survey published on PRN Newswire) believe that their dentures limit their ability to enjoy life to the fullest. If you can relate to them, dental implants in Las Colinas may be ideal for you. Some of the lifestyle benefits they offer include:
The ability to eat what you want. Implants are anchored in the jawbone, a fact that makes them extremely sturdy. You will not have to worry about them becoming destabilized whether you are enjoying a crisp apple, a savory steak, or your favorite movie night treats.
A confident smile. The restorations on top of dental implants are usually crafted out of dental-grade porcelain, which is almost identical to natural teeth. Onlookers will notice your beautiful smile, not that you have had some dental work done.
Speak easily. With non-implant dentures, there is a risk that they will slip in your mouth while you speak, especially if they do not fit well. The stability of dental implants mean they stay in place while you are talking.
Easy maintenance. You won't need to drastically change your daily dental routine or invest in any expensive brushes, cleaners, or pastes. For the most part, you can take care of your dental implants in Las Colinas as if they were natural teeth!
Health Benefits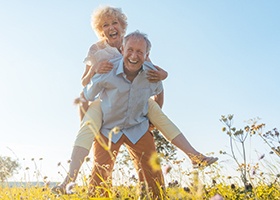 The benefits of dental implants in Las Colinas extend beyond improving daily quality of life. They offer some outstanding health advantages as well, including:
Jawbone preservation. Dental implants are the only tooth loss solution that replaces the roots of missing teeth. This stimulates circulation in the jawbone, which prevents it from deteriorating and shrinking away. They can therefore prevent the sunken facial appearance that often accompanies tooth loss.
Protection for oral tissues. Traditional fixed bridges require the removal of healthy tooth structure for support, while dentures place pressure on your gums, which can cause irritation. On the other hand, dental implants are fully self-supporting. You won't need to worry about tooth sensitivity or gum sores.
Systemic health benefits. Research indicates an association between tooth loss and an increased risk of several diseases. Because dental implants are the best form of tooth replacement, it is reasonable to believe that they may help to lower suck risks.
Long-Term Benefits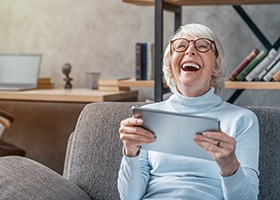 Dental implants may last for 30 years or longer with proper care. In fact, they have the potential to last a lifetime. This makes them an excellent monetary value, and it can grant you peace of mind as you move through all of life's big and little important moments.
Who Dental Implants Can Help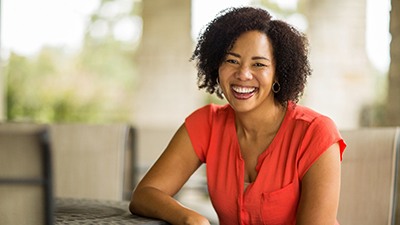 Anyone who is missing teeth and can benefit from better chewing efficiency as well as improved appearance or speech is a candidate for implants. Implants can be the solution when it has become difficult or impossible to wear a removable partial or complete denture. For patients at a high risk for decay, implants are a great option too because bacterial decay will no longer be a risk factor. One of the reasons why dental implants in Irving are so popular is that they can be used to replace any pattern of missing teeth – from one tooth to an entire smile.
Who is a Good Candidate for Dental Implants?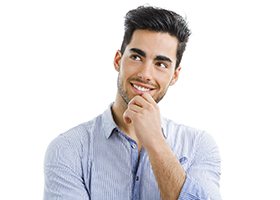 Almost any healthy adult can benefit from dental implants. Usually, you will need these three things in order to be a good candidate for this treatment:
Good overall health: Because dental implants require a small surgery, you must be well enough to undergo a minor procedure.
Great oral health: Problems like gum disease and cavities can potentially cause implant failure, which is why we must first treat them before you can replace your teeth.
Adequate jawbone density: Your jaw must be strong enough to support dental implants in order for your treatment to be successful.
Does it sound like dental implants are right for you? If not, no worries! Our implant dentist in Irving can provide you with preliminary treatment options like gum disease therapy, tooth extractions, and bone grafting to ensure that you can take advantage of dental implants. Once we get your smile back on track, we can develop your personalized treatment plan based on the number of teeth you're missing.
Missing 1 Tooth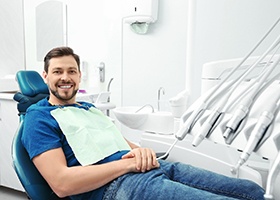 Our team can anchor a single dental implant in place within the jaw to replenish one tooth at a time. We will design a beautiful, all-porcelain dental crown that fits over the implant without threatening the health of the natural teeth on either side. We know our patients will be amazed by how seamless the final result is – implant-retained single teeth are an ideal match for the rest of your smile in terms of appearance, function, and durability.
Missing Multiple Teeth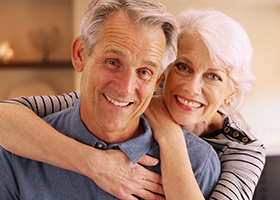 Have you lost multiple teeth that used to appear next to one another? Traditionally, dental bridges were the best method for replacing this needed structure, but the technique of filing down natural teeth to accommodate new crowns can actively harm your continuing oral health. Instead, our dentists strongly recommend implant-retained dental bridges, which are attached to dental implants anchored into the jawbone for support. The final result looks better, feels better, and is a big improvement for your wellbeing too. If you're missing teeth randomly throughout your smile, we can use implants to anchor a partial denture.
Missing All Teeth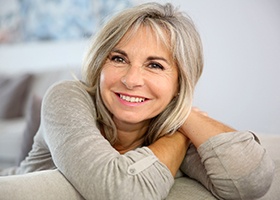 Many people believe that dental implants can't be used to replace several teeth at once – but this isn't true! Implant dentures can be anchored in place over a small number of strategically placed implants, which makes them more cost-effective than if our dentists were to match each implant to its own individual restoration.
Learn More About Implant Dentures
All-On-4 dental implants is a state-of-the-art reconstructive technique that involves replacing an ENTIRE arch of teeth with just four little implants. Each implant will be angled in just the right position to provide optimal support to the custom-made full denture. Better yet, our dentists can plan to place your brand-new "teeth" immediately after the implants are surgically positioned – there's no waiting! After a few weeks of wearing a temporary All-On-4 denture, patients will need to return to the practice for their permanent prosthetic.
Understanding the Cost of Dental Implants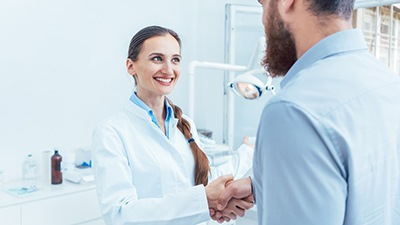 We won't sugarcoat it – dental implants are a significant investment of time and money. While our team believes that the end will more than justify the means, resulting in beautiful, functional, and long-lasting teeth that will stand the test of time, we understand that patients may be hesitant to pursue treatment because of the expenses involved.
At 21st Century Dental of Irving, our knowledgeable and compassionate team knows a thing or two about making dental implants affordable for a wide variety of budgets. We will walk you through your options, explain everything in concise terms, and help you create a customized financial plan that leaves you smiling.
Preliminary Treatments & Dental Implant Surgery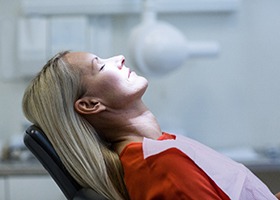 If you have preexisting dental issues, we must treat them with common services like extractions, gum disease therapy, and bone grafting. These preliminary treatments will add to the total cost of your dental implants in Irving, but they are essential for the health of your smile. Thankfully, many of these services are covered by dental insurance!
Your surgery with our implant dentist in Irving will incur its own cost. We provide the entire placement and restoration process in-house, making your fees more convenient, compact, and simple. Plus, you'll enjoy peace of mind by completing the entire treatment at the same familiar location.
The Parts of Your Dental Implant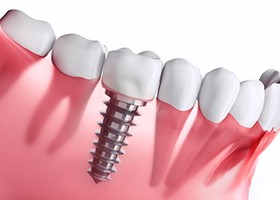 The number of dental implants that you need will directly impact the price of your treatment. Typically, one implant will be used for each missing tooth, however an average of 4 to 6 implants can support a full denture. Additionally, the type of restoration that you need will influence your overall cost. Usually, smaller restorations like crowns will cost less than larger ones like dentures.
Keep in mind that dental implants are made in different sizes and materials to fit a variety of needs. Some are made of zirconia or titanium, which can affect your cost. We will always be transparent about the type of implants we use – don't hesitate to ask if you have any questions!
How Dental Implants Can Save You Money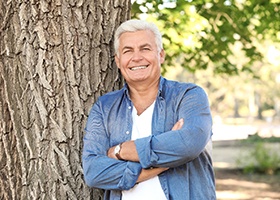 While implants do tend to cost more than other options, their unique health and lifestyle benefits make them well worth it. In fact, dental implants have the ability to last for a lifetime, which can actually save you money in the long run! Traditional dentures and bridges must be replaced every 5 to 10 years, however implants can last for decades, keeping your wallet full and your calendar open thanks to less dental visits.
Does My Dental Insurance Cover Dental Implants?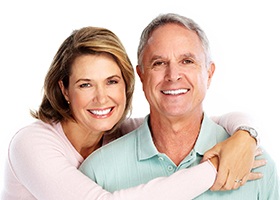 Usually, dental implants are not covered by insurance but there are some exceptions. Our friendly and experienced team will work with you to review your plan and maximize any benefits that we can to reduce your out-of-pocket spending. Portions of your treatment like the final restoration and necessary dental services for preexisting issues may be covered, but this will all depend on your provider. We are happy to communicate with your insurance directly so you can enjoy cost-effective dental care.
Making Dental Implants Affordable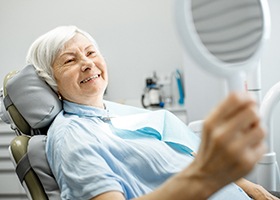 We do everything we can to make our dental implants in Irving affordable. In addition to accepting insurance, we offer low-to-no interest financing through CareCredit, Compassionate Finance, and Lending Club. With these options, you can choose payment plans that work best for your budget. You'll simply pay a monthly fee and offset the major costs of your implants. Plus, we offer free second opinions and consultations to make it as easy as possible to get started. Please don't hesitate to contact our office with any questions!
Dental Implant Technology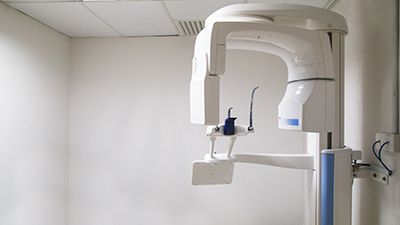 Dental implants boast an impressive success rate of over 95%, even 10 years after their placement! At 21st Century Dental of Irving, we do everything we can to maximize that success rate for each of our patients who choose to rebuild their smiles. Not only do our highly experienced dentists have the advanced training to place dental implants right here in our office, but we use cutting-edge dental technology like the 3D cone bean CT scanner! This state-of-the-art piece of equipment ensures that your dental implant placement surgery goes as smoothly, comfortably, and predictably as possible while ensuring reliable long-term results. Read on to learn more about this advanced dental implant technology.
What Is a 3D Cone Beam CT Scanner?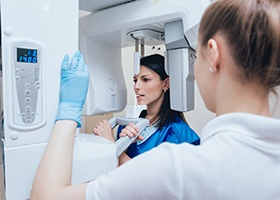 A 3D cone beam CT (computed tomography) scanner is an advanced type of X-ray. It uses cone bean radiography to create detailed three-dimensional images of your teeth, dental structures, sinus cavity, jawbone, and nerves in your face. To use it, you'll sit down and place your chin on the designated resting space. Then the machine will rotate completely around your head in a matter of moments, taking 150-200 images at various angles. A special software is then used to combine all these images into a digital 3D model of the inside of your mouth.
3D Cone Beam Scanner Vs Digital X-Rays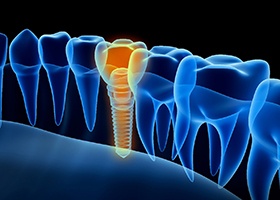 Digital X-rays give us tremendous insight into the well-being of your teeth and jaws, and are ideal for spotting issues like cavities and small cracks. However, they are only two-dimensional images and are somewhat limited in what they can show. A CT scanner provides a far more detailed picture of your mouth that can be rendered into a 3D model on our computers, allowing us to inspect your oral structures from every side and truly understand how they work together. Plus, the cone beam scanner shows more of your anatomical structure, such as your blood vessels and nerve pathways.
Using the 3D Cone Beam Scanner for Dental Implants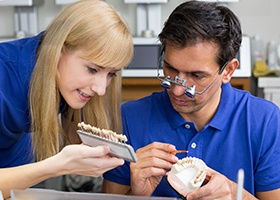 3D cone bean CT scanners are often used for a variety of dental procedures that require a detailed understanding of the mouth, including tooth extractions, orthodontics, and TMJ dysfunction therapy. They are especially key for positioning dental implants within the jaw in a way that maximizes their chances of long-term success.
Using the detailed 3D image of your mouth from the 3D cone beam scanner, we can precisely determine the best possible location for your dental implant(s). Plus, it will help us anticipate any potential obstacles we may have otherwise missed and plan accordingly, ensuring your placement surgery goes smoothly and predictably.
Dental Implant FAQs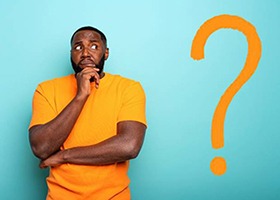 Knowledge is power, and this is especially true when it comes to dentistry. It's important to have all the facts you need so you can make an informed decision when it comes to restoring your smile. You can schedule a consultation at 21st Century Dental of Irving to ask any questions you might have about the implant procedure, but in the meantime, you can get an early start by learning the answers to some of the most common dental implant FAQs in Irving.
Are All Dental Implants the Same?
Not all dental implants are alike. For example, most implant posts are made out of titanium, but patients with metal allergies might get one made out of zirconia instead. They'll also come in various widths depending on the size of your mouth and remaining teeth. Also, some implants might require additional steps to place, and of course, the type of restoration they support will vary from case to case depending on the extent of tooth loss. Some of these decisions will be based on your oral health needs, but other choices will be made based on your preferences.
Will I Need a Bone Graft Before Getting Dental Implants?
You need to have a certain amount of jawbone mass in order for implant placement to be successful. This might not be a problem if you receive your implants right after an extraction, but if your teeth have been missing for a long time, there's a good chance that the jaw will have significantly deteriorated. A bone grafting procedure will help reverse this process by placing bone material from elsewhere in your body (usually the hip) to create a stronger foundation. We can examine your jaw during a consultation and determine whether bone grafts will be needed.
What Causes Dental Implant Failure?
If your mouth doesn't heal properly after the surgery, the bone won't integrate with the post and the implant will fail. This could be the result of a current infection in your mouth (gum disease, for example), or it could be a side effect of tobacco use, which is why patients are told to stop smoking before and after the procedure. It's important to be aware of the state of your oral health before you get implants; furthermore, you'll need to be extra vigilant about practicing good oral hygiene so that an infection doesn't develop and cause complications.
How Long Do Dental Implants Last?
The lifespan of dental implants in Las Colinas largely depends on how well you maintain them. Fortunately, doing so is as simple as brushing and flossing regularly as well as coming to 21st Century Dental of Irving for regular checkups and cleanings!
When well-maintained, dental implants can last for decades without needing replacement. Many studies have shown that implants often last up to 20 years, and other findings suggest an average of 30. However, in many cases, a patient who practices excellent oral hygiene will be able to keep their implants for the rest of their life!
Does Getting Dental Implants Hurt?
We will always ensure your comfort by numbing your mouth with local anesthetic. We also offer various forms of sedation, giving you a greater sense of relaxation while making it more difficult for your body to register pain. The surgery itself won't hurt but some slight soreness and discomfort in the days following is completely normal. To manage pain, you should take our medication as prescribed or over-the-counter medicine as directed. You can also use an ice pack or cold compress on your face closest to the surgical site to numb pain. Contact us right away if your discomfort seems to worsen after 2 to 3 days.
How Successful Are Dental Implants?
Dental implants require surgery, which may make you a little nervous. However, their track record speaks for itself. When placed by a skilled implant dentist in Irving like Dr. Smith or Dr. Roy, dental implants have a success rate of 95% even after 10 years. Your success rate will depend on factors like dental hygiene, attendance of routine checkups, healthy diet, and more. Additionally, the longevity of your implants can also depend on the location – molars receive more pressure compared to front teeth, which may give them a higher chance of failure.
Will People Be Able to Tell That I Have Dental Implants?
Dental implants are designed to look, feel, and function just like your natural teeth. In fact, because they replace teeth from the roots up, dental implants allow your restorations to mimic the way that your teeth emerge from your gums. You can use them just like your original teeth, so you won't need to hold your jaw in an unnatural position. Plus, we match your restorations to meet your exact specifications, customizing them to copy your smile's size, shape, and shade.
Is There Anything I Shouldn't Eat with Dental Implants?
In the first few weeks after surgery, avoid hard or chewy foods because they could cause damage. Additionally, do your best not to consume acidic, sugary, or alcoholic drinks and don't use a straw. After that quick period of healing, you can eat almost anything that you would with your natural teeth. That said, please keep in mind that some sticky or chewy candies can dislodge your implants so use caution when eating them or skip them altogether.
Am I Too Young to Get Dental Implants?
Most people's jaws aren't completely developed until young adulthood, which is why prematurely placing implants can result in difficulty with bone development and possible implant failure. We will not recommend dental implants for patients younger than 18, and some may not have fully developed jawbones until their mid-20s. Also, men's jaws take longer to develop than women's jaws do – something to keep in mind if you or a family member are considering dental implants in Irving.