Teeth Whitening – Irving, TX
Chairside & At-Home Whitening Treatments Personalized for You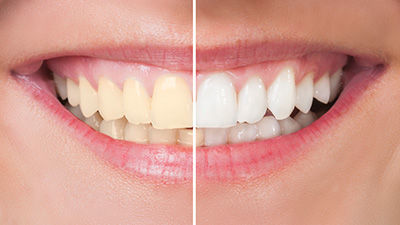 What better way to end an appointment with us than to have your teeth whitened in just five minutes? We offer a system called QuickPro by Phillips that's targeted at removing superficial stains and can be conveniently done at the end of your dental cleaning or any other dental appointment. It is the first dual-layer whitening varnish technology that not only helps to lift stains but also does so with minimal to no tooth sensitivity. We also offer NiteWhite at-home whitening for those who wish to brighten their smile at their convenience. If you are someone seeking a more dazzling smile, you might consider undergoing professional teeth whitening! Contact 21st Century Dental of Irving today to learn more or to schedule your consultation.
Why Choose 21st Century Dental of Irving for Teeth Whitening
Lightning-Fast Improvements
Professional-Strength Materials
In-Office & At-Home Teeth Whitening Available
Who Is a Good Candidate for Teeth Whitening?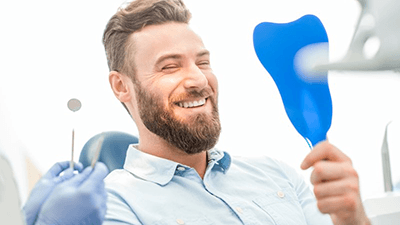 Determining whether a patient is a candidate for teeth whitening is largely based on diagnosing the exact cause of dental discoloration. As long as you have healthy gums, you may be eligible for the treatment if you fall under any of the following conditions:
Tetracycline (antibiotic) staining
Excessive fluoride
Trauma (injury) to the teeth
Pulp degeneration
Restorative materials (silver, gold)
Genetic and acquired illnesses
Aging
The consumption of staining substances, such as coffee, tea, or tobacco products
How Does Teeth Whitening Work?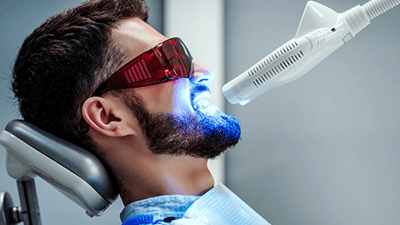 Our team offers a couple of methods for effectively brightening your smile. Here's what you can expect from each solution:
Take-Home Teeth Whitening
You'll be given custom trays that you'll apply special whitening gel to and wear after you've brushed your teeth. Once you wake up, you'll remove and clean the trays carefully, and then brush your teeth like normal. After a couple of weeks, you should notice a drastic positive change in your smile! Our team uses NiteWhite whitening materials in our office because they are continually improving their products. Most recently, they have produced new gel formulations. One allows daytime whitening at a quicker pace while another is specifically designed for those with sensitive teeth.
In-Office Teeth Whitening
With QuickPro treatment, we can efficiently whiten your teeth after you've undergone your checkup and cleaning. This process can be completed in just a single visit and you can be sure to show off your new and improved pearly whites for several months to a couple of years with proper care.
Tips for Maintaining Your Brighter Smile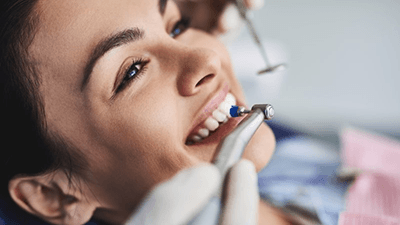 Of course, teeth whitening treatment isn't a permanent solution for your smile, but it's quite simple to maintain your dazzling results. To make the most of your newly brightened grin, try practicing the following tips:
Brush your teeth at least twice a day
Use a soft-bristled toothbrush and fluoridated toothpaste
Avoid dark-colored drinks like coffee and soda (use a straw if possible)
Minimize dark-pigmented foods and treats
Rinse your mouth frequently throughout the day to remove debris and food particles
Schedule visits with your dentist twice a year for checkups and cleanings
Understanding the Cost of Teeth Whitening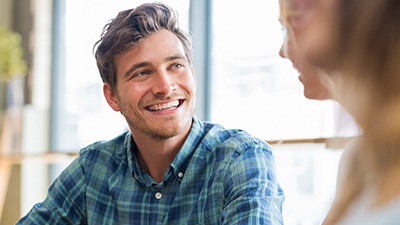 Before making a commitment, most people would like to have a clear understanding of the costs associated with teeth whitening in Irving. As each case is different, the cost can vary significantly from one person to another. In the following section, we'll outline the factors that may impact the final price, providing you with a better idea of what you can anticipate. If you prefer to speak directly with a member of our team, feel free to give us a call today!
Factors that Affect the Cost of Teeth Whitening
While professional teeth whitening in Irving is typically offered at a fixed price, several factors can influence whether the process of enhancing your smile's brightness will incur additional costs. These factors include:
The Severity of Discoloration – Patients with pronounced staining may require multiple treatments to achieve their desired shade.
Necessary Preparatory Treatments – If you have cavities or gum disease, addressing these issues is essential before moving forward with teeth whitening. Neglecting this step may result in further complications during treatment.
Presence of Veneers– It's important to note that teeth whitening is ineffective on veneers, crowns, fillings, or other restorations. To achieve a uniformly white smile, replacement of dental work may be necessary to ensure seamless blending.
Types of Teeth Whitening: What Do They Cost?
Believe it or not, each type of teeth whitening treatment comes with its own unique cost. Here's a breakdown of what you can anticipate:
In-Office Whitening – Typically falls within the range of $400 to $800.
Take-Home Whitening Kit – This option provides custom-made trays and a professional-grade whitening gel for home use, typically costing a few hundred dollars in total.
Store-Bought Whitening Trays – These kits are readily available in most supermarkets and pharmacies, generally priced at around $100 or less.
Strips, Gels, & Whitening Toothpastes – These more budget-friendly methods can be found in various retail locations, ranging from $7 to $40 depending on where you purchase them.
Fast Teeth Whitening vs. Inexpensive Teeth Whitening
Patients on a tight budget might want to opt for the most economical choice, even if it means using over-the-counter products. However, it's crucial to consider factors beyond just the price.
Opting for professional teeth whitening in Irving may come with a slightly higher cost, but you're investing in superior quality and safer products. Your dentist will use tools and ingredients that yield significantly better results. Additionally, they will conduct an oral examination prior to your treatment to ensure the health of your mouth. All in all, you're likely to experience greater satisfaction with your smile and save money in the long run, as you won't need frequent touch-ups.  
Options For Making Teeth Whitening Affordable
Because teeth whitening is considered a cosmetic dental procedure, it's generally not covered by dental insurance. This means you'll need to explore alternative payment options. Fortunately, our practice provides additional financing solutions to make your treatment more accessible, such as flexible financing. With CareCredit and Lending Club, you can break down the total cost of your whitening treatment into manageable monthly installments. Plus, many plans come with minimal to no interest charges!