Invisalign® Clear Braces – Fort Worth, TX
A Comfortable & Stylish Way to Straighten Teeth
Invisalign is an almost invisible option to straighten your teeth without wearing conventional metal braces. It uses a series of clear, removable custom-made aligners to move your teeth. Because you remove the aligners before eating and drinking, there are no food restrictions or problems with flossing or brushing. This technology is also more comfortable, avoiding the mouth abrasions that can be caused by the metal and wires of conventional braces. Contact us today in Irving, TX to schedule an Invisalign consultation today!
Why Choose 21st Century Dental of Irving for Invisalign?
No Brackets & Wires
Orthodontic Improvements for Adults & Teens
Preserved Self-Confidence
The Benefits of Invisalign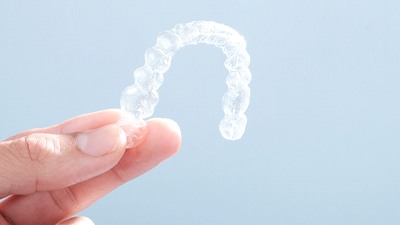 Invisalign treatment offers patients a variety of unique benefits that other options simply can't deliver, including:
Comfort: Made of smooth plastic, Invisalign aligners won't cut or catch the inside of your mouth and cheeks like traditional wire and bracket braces.
Speed: With a treatment time that averages between 10 and 18 months, you can typically receive your straight smile faster than traditional braces.
Appearance: Do you want to straighten your teeth without anyone noticing? Invisalign allows you to receive the smile of your dreams without compromising your appearance.
Eating: Completely removeable, Invisalign aligners allow you to eat all of your favorite foods without worrying about damaging your orthodontics.
How Does Invisalign Work?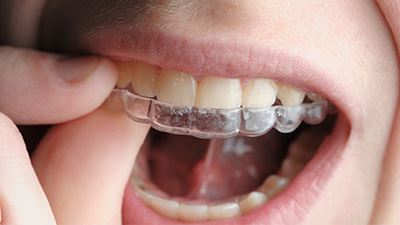 Once Dr. Smith develops a custom prescription for your mouth, Invisalign uses 3-D computer imaging technology to design the complete treatment plan, from the initial teeth positioning to the desired final positioning. This 3D imaging allows you to preview the final positioning of your teeth before you start treatment. Custom-made aligners are created based on the imaging information. Each of these aligners moves teeth incrementally and is worn for about two weeks. Typically, you will visit our cosmetic dentist once every six weeks for progress reports. Not every situation can be treated with Invisible Aligners, as not all patients are candidates, so call or e-mail us for an evaluation to see if your smile can be treated with this new technology.
Types of Invisalign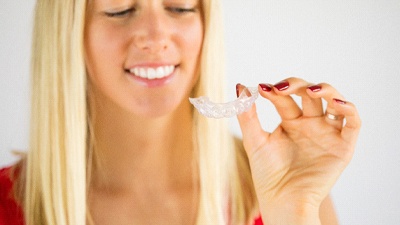 At 21st Century Dental of Irving, we offer two different types of Invisalign treatment to give more patients the straight smile of their dreams.
Invisalign for Adults
This tried and true treatment consists of a series of clear, smooth plastic aligners that are designed to gradually shift your teeth into place. They are comfortable after a small adjustment period, easy to use, and provide lasting results in a shorter amount of time than other solutions. While Invisalign may not be right for everyone, it can be used to treat most misalignment.
Invisalign for Teens
There is a new Invisalign system that is specifically designed for children and teenagers! Visit our office to see if your loved one would qualify for this great new improvement from the Invisalign company. Our teens are very happy with their treatment so far. We are sure you will be equally thrilled! The biggest difference is that the clear aligners that come with this treatment have a small blue dot to make them more visible for parents. Now, you'll always be able to tell whether or not your loved one is keeping up with their treatment.
How Do I Care for My Invisalign Aligners?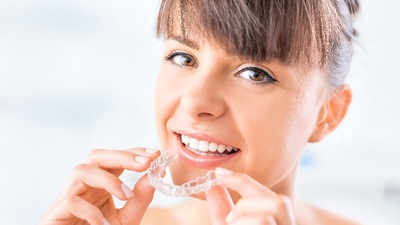 Keeping your aligners clean and clear will ensure the health of your teeth and gums, but it will also maintain the transparent appearance that the treatment offers. It's important to take out your aligners each time you eat—you should only drink water while they're in your mouth. It's also vital that you brush your teeth before putting your aligners back in. If food debris isn't cleaned away, it can permanently stain your aligners and even get trapped against your teeth, putting them at greater risk of decay.
Am I a Candidate for Invisalign?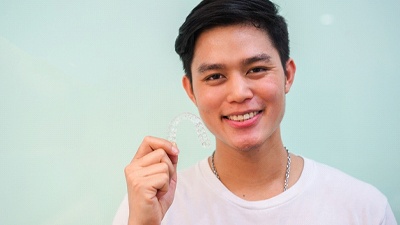 Candidates for Invisalign in Fort Worth are those who have decent oral health, mild to moderate misalignment, and a commitment to the treatment schedule. Because of this, Invisalign is typically recommended to older teens and adults. Younger people often don't have the responsibility or understanding to maintain their Invisalign treatment. However, the only way to ensure whether you're a candidate for Invisalign clear braces is to contact our office for an appointment. Dr. Smith will carefully examine your smile before providing the best recommendation for your needs.
Understanding the Cost of Invisalign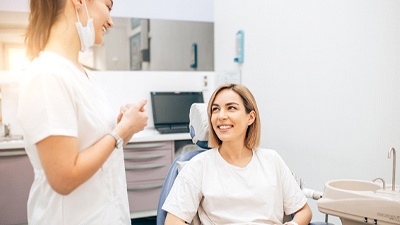 Invisalign is a subtle and personalized orthodontic treatment, meaning each patient's process for straightening their smile will be different. Since every person has unique dental needs and goals, the overall price of your clear aligners won't have a flat fee. To receive an estimate of the cost of Invisalign in Irving, you'll need to schedule an initial consultation with our team. Until your visit, keep reading or contact our friendly staff today to learn more about what you can expect from the price of this treatment!
Factors That Affect the Cost of Invisalign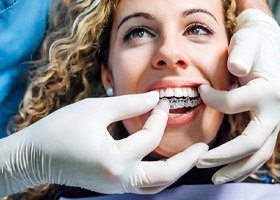 Here are several distinct factors that can significantly affect the overall cost of Invisalign:
Treatment length: Your process will involve working through a series of clear aligners to gradually straighten your smile. The longer your treatment is, the more aligners you'll likely require, which will increase the cost.
Bite complexity: If you have more severe orthodontic issues, then you may require more extensive and costly treatment.
Your compliance: The success and timeline of your process will also depend on how well you stick to the 20–22-hour wear time. Forgetting to wear or care for them properly can disrupt the treatment or increase the price.
Invisalign vs. Smile Direct Club™: Which Costs More?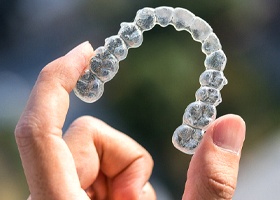 One of the quickest and safest ways to straighten your teeth is with Invisalign. There are also other options like Smile Direct Club™ that declare a more convenient process. These DIY orthodontic treatments can cost more time, money, and even damage in the long run. This is due to them lacking oversight from a professional dentist, making it much easier for the treatment to go wrong. On the other hand, our team will monitor your Invisalign progress with regular appointments, ensuring your process goes as smoothly as possible while straightening your smile!
Does Dental Insurance Cover Invisalign?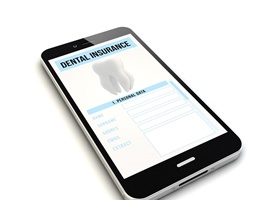 Many dental insurance companies don't provide coverage for orthodontic treatment. Even so, we will be more than happy to help you look over the details of your policy. Our knowledgeable staff has years of experience helping patients make the most of their benefits to make their treatment more affordable for them.
Options for Making Invisalign Affordable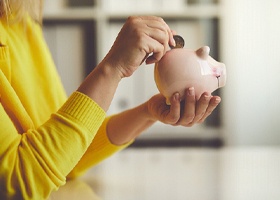 If you don't have dental insurance, then you may still have other flexible options to consider. We are partnered with several third-party financiers, such as CareCredit and Lending Club. They can offer plans that'll break down the cost of your treatment into monthly payments, making the overall price more convenient in the long run. They may even have little to no interest, providing a stress-free experience for a straighter smile!
Invisalign FAQs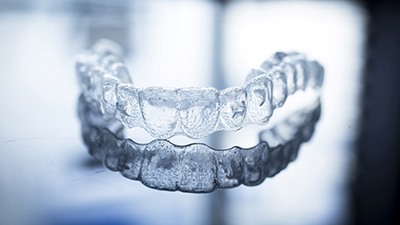 If you want to learn more about Invisalign in Irving, you're in the right spot! Right here, we're answering some of the most popular questions we hear from patients, from how much it hurts to what happens after your treatment. Of course, if you have a specific question on your mind that you would like answered, don't hesitate to get in touch with our team directly. Otherwise, read on!
Does Invisalign Hurt?
Good news: Invisalign is not painful, especially compared to traditional braces. Not only does the plastic design make the trays incredibly smooth, but each one is custom-made for you, preventing irritation to your cheeks, gums, and lips. Of course, you may experience some soreness at the beginning of your treatment and after each transition to a new tray. Your teeth are being moved into entirely new positions, after all! Don't worry – when discomfort arises, you can sip on ice cold water, use a cold compress, or take an over-the-counter pain reliever to ease the sensation.
How Long Does Invisalign Take?
That depends on a few important factors, like the severity of your misalignment. In moderate and severe cases, clear aligner treatment can take 12+ months to complete. In mild cases, you can work through your series of trays in as little as six months!
It's also worth mentioning here that your compliance with your dentist's instructions will also play a role in how long your treatment takes. For example, if you don't wear your aligners for at least 22 hours a day, then there's a good chance that your teeth won't track properly, adding more months to your treatment timeline. So, make sure to follow all of the rules and guidelines your dental team provides.
What Happens After Invisalign?
After you've worked through your series of trays, our cosmetic dentist in Irving will provide you with a retainer. Fortunately, these small orthodontic appliances are more comfortable and aesthetically pleasing than ever before. So, wearing it won't be a hassle. While the exact wear time will vary, the large majority of patients are expected to wear it at least every evening while they sleep. This helps prevent orthodontic relapse, a phenomenon where the teeth begin to move back into their previous positions.
Can You Eat with Invisalign?
You can – there aren't any dietary restrictions with Invisalign! The only "rule" is that you must remove your trays before eating any meals, snacks, or drinks that aren't water. To keep your teeth happy and healthy, you should also stick to mostly nutrient-dense, well-balanced foods too, like fresh fruit, cooked vegetables, and lean protein.
How Do I Clean My Invisalign?
Naturally, you want to keep your aligners clean and clear. To do so, rinse them each time you take them out of your mouth and clean them before putting them back in. Simply use a toothbrush and water to do so since toothpaste has abrasive ingredients that can leave behind microscopic scratches. If your aligners need a deeper cleaning, then use your Invisalign cleaning crystals.