Dentures – Irving, TX
Superior Quality for Full Smiles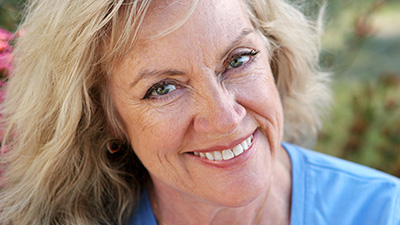 If you have lost all of your natural teeth, whether from periodontal disease, tooth decay, injury, or for any other reason, our dentures in Irving can help. They replace the missing teeth to help you regain your smile, which is a big benefit for your appearance as well as your health. Without support from the denture, facial muscles sag, making a person look older. Most importantly, a properly fitting denture helps you eat and speak – the things that people often take for granted until they have lost their teeth.
Why Choose 21st Century Dental of Irving for Dentures?
Comprehensive Tooth Replacement
Highly Modern Prosthetics for Superior Fit & Function
Dental Implant Options Available
Who is a Good Candidate for Dentures?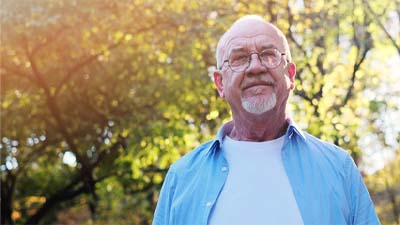 Our dentists would recommend a denture to any patient who has lost some or all of their teeth. They offer an effective and affordable way to replace several teeth at one time, and they are ideally suited for patients with consecutive missing teeth. While dentures are normally associated with the senior population, they can be designed to suit patients of any age.
Types of Dentures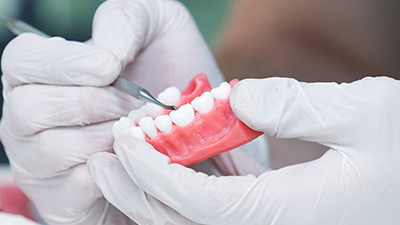 A denture is a set of prosthetic teeth attached to a plastic base that is designed to look like your gums. A full denture replaces an entire row, while a partial fills the gaps left by several missing teeth when some healthy teeth still remain. Dentures can be held in place using suction, metal brackets, or with the help of a denture adhesive. By practicing proper care and maintenance, you can expect a traditional denture to last for five to seven years before they need replacement or relining. A denture that is retained by dental implants, however, can be expected to stick around several times longer.
Partial Dentures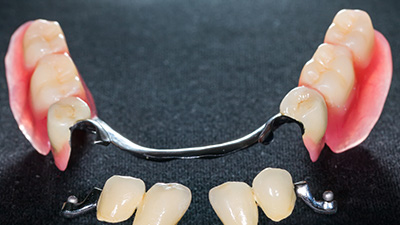 If you still have some healthy natural teeth remaining, your dentist may recommend a partial denture. You have multiple options depending on the number of teeth missing and where they are located in the jaw.
A fixed partial denture in Las Colinas is permanently attached in your mouth, either connected to the surrounding natural teeth or with dental implants. It cannot be removed except by your dentist.
The other option is a removable partial denture, which you can take out for thorough cleaning and to give your mouth a break at night while you sleep.
Full Dentures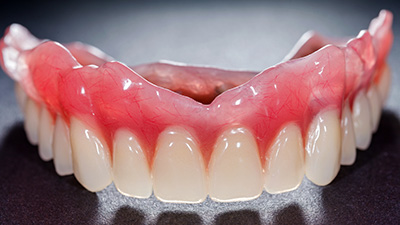 A conventional full denture is made and placed in the patient's mouth after the remaining teeth are removed and the gums have healed, which may take several months. An immediate denture is inserted as soon as the remaining teeth are removed. We will take measurements and make models of the patient's jaws during a preliminary visit. With immediate dentures, the denture wearer does not have to be without teeth during the healing period.
Implant Dentures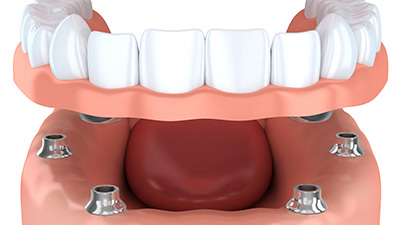 Dental implants are prosthetic tooth roots made of titanium, a material that bonds directly with your bone tissue. After a period of four to six months, the dental implants are as sturdy as any other bone in your body. Dentures affixed to dental implants provide unsurpassed stability, allowing you to eat, speak, and smile with full confidence.
You won't need an individual dental implant for each missing tooth. Instead, your dentist can retain a full or partial denture on a small number of strategically placed dental implants. The All-on-4 dental implant method allows for a full denture in Irving to be supported using as few as four implant posts – and this method can be completed in just 24 hours. All-on-4 also eliminates the need for preliminary bone graft procedures that may be necessary for conventional dental implants.
The Benefits of Dentures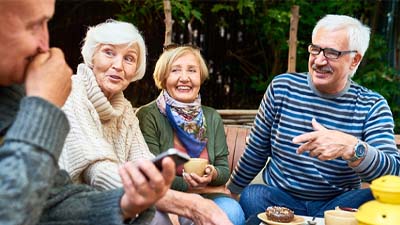 A patient's quality of life instantly improves when they receive a customized denture. Not only are they able to smile with confidence again, but the support provided to the lips and facial muscles by the prosthetic also gives them a fuller, more youthful appearance.
Eating is also much easier with a full set of teeth, allowing a patient to enjoy a wide spectrum of foods, including nutritious ones that promote overall health, such as cooked meats and fibrous vegetables. Also, the denture will more evenly distribute a patient's bite, which will take pressure off of the remaining teeth and gums, leading to more daily comfort.
Plus, a denture enables someone to speak clearly and not have to worry about stumbling over certain syllables. This encourages the patient to be more social and outgoing, which can be tremendously beneficial for mental health.
Understanding the Cost of Dentures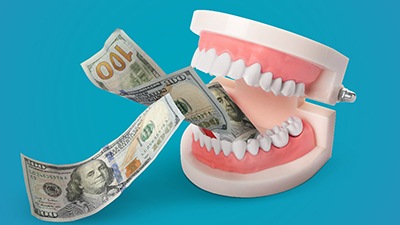 Perhaps you're worried about the cost of dentures. Fair enough – a procedure won't work, after all, if it "breaks the bank." Still, the reality is that the prosthetics' price varies by patient. As such, you'll need to consult our dentists for an exact treatment estimate. Doing so, furthermore, helps you learn the factors behind a denture's cost and your payment options. If you'd like to learn more, just keep reading or contact our office for details!
Factors That Affect the Cost of Dentures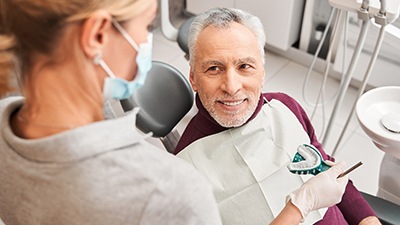 At the consultation, our team will confirm whether you qualify for dentures. That means they'll also assess the factors affecting a potential treatment's price. Usually, these boil down to just three things:
Need for Prep Work – If you need dental work before getting dentures, you'll spend more than you would otherwise. Having a tooth pulled, for example, will add to your overall expense.
Denture Base Material – In truth, the acrylic in a denture's base can come in different kinds. Depending on which is used, treatment can cost more or less.
Quality of Replacement Teeth – Denture teeth are made of acrylic or porcelain. Whereas the former is cheaper but wears quickly, the latter costs more but is longer-lasting.
Remember: Don't just opt for the cheapest possible dentures. These kinds rely on subpar acrylic for their bases and teeth. To ensure your new teeth work well with your mouth, then, prioritize quality in your selection.
Are Implant Dentures More Expensive?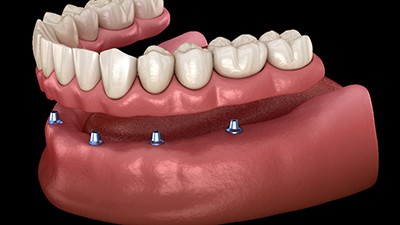 Indeed, implant dentures are more expensive than traditional ones. Keep in mind, however, that the higher price is justified. These restorations have unique benefits compared to others.
In contrast to regular models, implant dentures rely on dental implants. They're thus highly stable and permanent, to the point that they don't slip or fall. Plus, since implants fuse with your jaw, these dentures both look and act like natural teeth.
Implant dentures are also a money-saving investment. Given proper care, you see, the implants they connect with can last 15-30 years. You'd thus be able to avoid frequent repair and replacement visits, which can get pricey over time.
Does Dental Insurance Cover Dentures?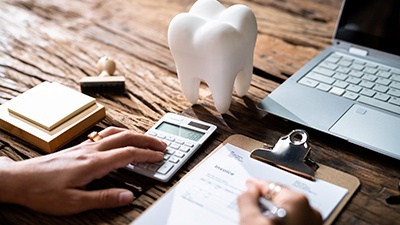 As it happens, dental insurance usually does cover dentures. Most plans view the prosthetics as a major procedure, meaning they'll match 50% of the treatment's cost.
Exceptions, however, can and do exist. There are some policies that limit coverage of dentures. So, make sure to confirm your insurance benefits beforehand. Our office can even assist you with that process.
Other Options for Making Dentures Affordable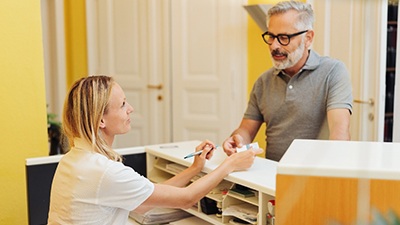 Even if you lack dental insurance, there's no need to fret; there are other ways to make denture treatment affordable. Quite a few practices, in fact, provide patients with unique payment options.
Take our own 21st Century Dental, for instance. Our office offers flexible financing through CareCredit. With their help, you can pay for our dentures with monthly, low-interest installments. You'd then be able to cover costs gradually instead of all at once.
If you'd like to get more financial facts on dentures, book a visit to our office. We'd be happy to give you new teeth that are also budget-friendly!
Denture FAQs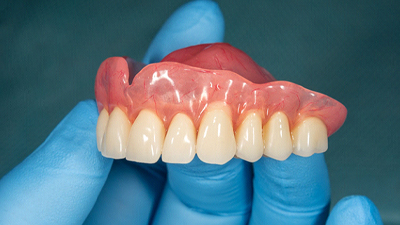 Are you about to receive your first set of dentures? Or have you been living with false teeth for a while now and have concerns about whether or not you're caring for them properly? Our experts at 21st Century Dental of Irving are always happy to answer your questions. For your convenience, we've decided to list some of the inquiries that we've heard particularly often on this page. Don't hesitate to reach out if you have more specific concerns of your own!
When Will I Need to Replace My Dentures?
The simple fact is that dentures in Las Colinas are not designed to last forever. Like real teeth, they're subject to the wear and tear of daily biting and chewing. Also, they might not fit properly anymore once your jaw changes shape due to bone loss. Because of these factors, you can usually expect to get new dentures every 5 to 8 years or so. Of course, this is only necessary once we reach the point where the dentures can no longer reasonably be altered to fit your smile. That said, ill-fitting or damaged dentures can lead to a lot of discomfort and inconvenience, so it's important to have them replaced when you need to.
How Often Do I Need to Visit the Dentist with Dentures?
Some patients think they're done with dental appointments after they've lost all of their natural teeth. However, your dentures will still need to be examined periodically so that we can ensure that they're in good shape and haven't been excessively damaged in any way. We also need to check your gums, cheeks, and oral cavity for signs of irritation or infection, and most importantly, do an oral cancer screening. Ultimately, you should still be visiting us for regular checkups and cleanings at least once a year – in other words, almost but not as often as you would for your natural teeth.
Can I Sleep Wearing My Dentures?
Unless your dentures are permanently fixed to implants, it's not a good idea to leave them in your mouth overnight. Your gums and jawbone will need time to recover from the strain of supporting the dentures all day. Furthermore, keeping your dentures in your mouth for a full 24 hours without ever taking them out to clean them is generally a bad idea. Before you go to bed, we recommend that you soak your dentures in a special solution in order to keep them moist until you're ready to put them in the next day. The exception would relate to your breathing. If you snore, there is a chance you will snore more if you take them out during sleep. Do your own assessment, and if this is the case, be sure to take them out for a few hours in the evening before retiring with the dentures in place. And, if you do snore, you need to see our sleep experts.
When Do Dentures Need to Be Relined?
Changes and shifts in your jaw line or resorption of the bone will naturally occur once all of your teeth have been lost. Because of this, dentures that were once a perfect fit may no longer feel right in your mouth; they may even start to move around and cause painful sores. Eventually, they could start slipping or even fall out of your mouth altogether at inopportune moments. If you have reason to think the fit of your dentures has changed, get in touch with us immediately. We might also find signs that an adjustment is necessary during your regular checkups.