Smile Gallery
View Our Patient Stories
21st Century Dental of Irving has been helping friends, families, and neighbors throughout Irving smile for years. Dr. Smith, Dr. Roy and Dr. Bristow truly enjoy helping others achieve their dream smiles and boost their self-confidence. Transformative dentistry is just what we do. Explore the gallery below to see examples of our work, and when you're ready to visit with us, please contact our Irving dental office.


Missing Tooth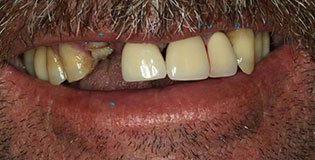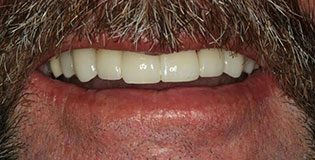 This 56 year old patient came to the office unhappy with his smile. He had old discolored crowns, a front tooth that had broken off, and multiple teeth missing in the back. With the help of the 21st Century Dental team he was able to have multiple implants placed, a bridge to fill in the gap on the front teeth, and new crowns on all of his top teeth for a younger and more natural appearance. He is now able to smile proudly with the smile he has always wanted.
Missing Teeth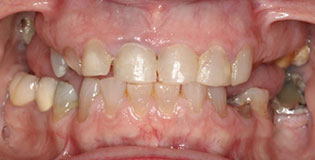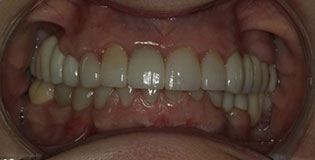 This 63 year old retired woman came to our office looking to better her smile. She never smiled showing her teeth and was embarrassed by the fractures, the missing teeth, and the short, gray appearance of her existing teeth. After a thorough cosmetic consultation to discuss all of her options, she decided that she wanted her ideal "Hollywood smile" that she would have for the rest of her life. She was able to choose the shape, the color, and the overall appearance of her new smile. She often reiterated that she was so grateful that she was the one planning her smile, not feeling pressured by the office or doctor to choose options she wasn't comfortable with as she had in previous offices. On the final day of cementation she walked out of the office grinning from ear to ear, ready to go enjoy holiday pictures with her family at Thanksgiving. The 21st Century Dental Team is proud to have such a joyful and confident patient consider us to be her dental home and we look forward to serving your cosmetic needs with equal amounts of respect, thoroughness, and care as we did with her.
Dark Teeth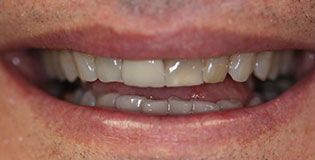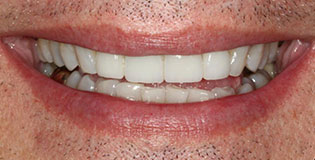 This 55 year old patient came to us wanting to make his smile more youthful. He didn't like his rotated teeth and 20 year old crown that didn't match. With the help of the 21st Century Dental team he was able to get a white, straighter smile in the most conservative manner possible. He did teeth whitening for 1 month prior to preparing for the veneers. We decided that the least invasive and most cosmetic option would be 4 veneers on the front teeth. He was able to approve the size and shape prior to final case cementation and able to wear the "mock up" as his temporaries so he could test drive the veneers before the final ones were made. Whitening and minimally invasive veneers and a replacement crown transformed his smile into one that is youthful and designed specifically to fit his requests. He is all smiles every time he is in the office and it was a pleasure being a part of that boost in his self confidence!
Missing Teeth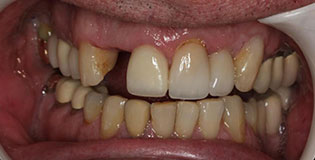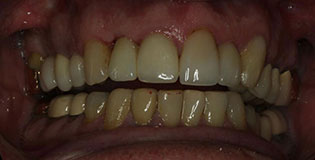 This 65 year old patient came to 21st Century Dental with a front tooth that was broken off at the gum line. After a thorough exam it was decided that this tooth needed an extraction and an implant and crown placed to restore his smile and allow him to have his full set of "teeth" again. The extraction and implant were done at the same appointment and 6 months later the crown was placed. He now has his full complement of "teeth" and no one can tell he was ever even missing one! When asked if he liked it he gave a big grin and said "I don't care as long as it's not blue!" While it was a lengthy process, the positivity and the care that the 21st Century Dental team provided was so appreciated by him that he was all for joking about "our" crown! He knew that with our high standards we would never place anything in his mouth that we wouldn't place in our own and there really is a family atmosphere in our office. We love making each patient feel like he or she is part of our family and we look forward to doing the same with you!
Spacing and Missing Teeth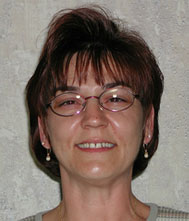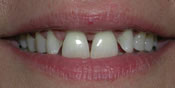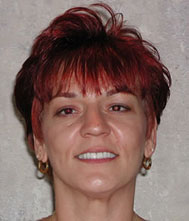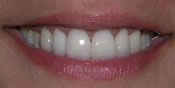 This patient's husband came home with a new smile and dared her to try and top it! Who won? They both did. Wanting to rectify the compromises left following gum surgery while revamping to a whiter and more sexy shaped smile, we were able to hide the spaces between the teeth and mask the newly exposed root surfaces.
Stained Bonding and Old Crowns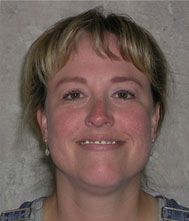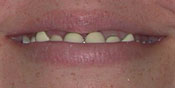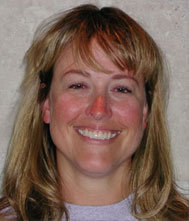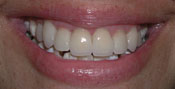 Kyra had a bad experience years before, and the cosmetic results were less than glamorous, but she had become afraid of the dentist. When she heard we could sedate her while we did all the work, she signed up for some replacement crowns, and her fear has been replaced by a beautiful smile. Congratulations, Kyra. You go, girl!
Dark Teeth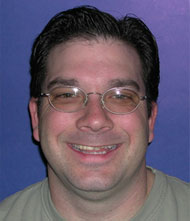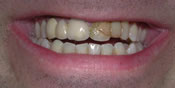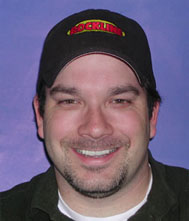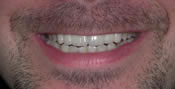 Unhappy with his failing bridges, the patient presented with the request of a more natural thus improved smile. Having never developed the two teeth lateral to the front two central teeth, our goal was to achieve a finished product that unlike his first replacement bridges, was not obvious.
Stained and Chipped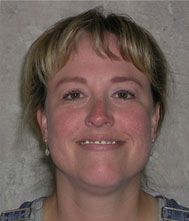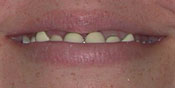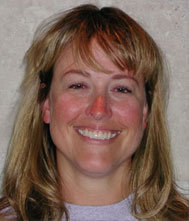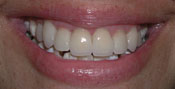 I have always wanted to have a whiter smile. I have had uneven, chipped teeth since I was a kid, and over the years they became darker and more jagged. I became self conscience and stopped smiling. Thanks to 21st Century Dental, I never stop smiling! Thank you so much!
Unshapely Teeth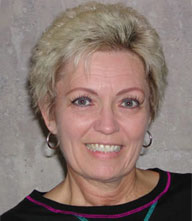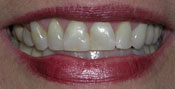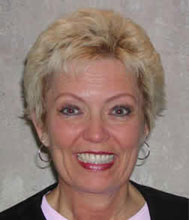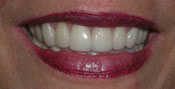 Barbara had been a patient for many years, but never realized what cosmetic dentistry could do for her. Maybe we didn't tell her? Now we don't have to tell anyone, because she's telling everyone!
Crooked and Crowded Teeth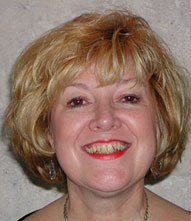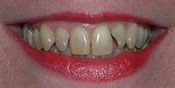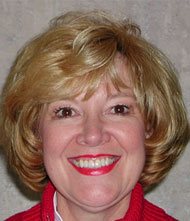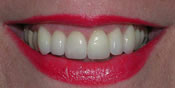 Gayle had always wanted prettier teeth. She made up for her dental insecurities by becoming the life of the party. We made her six nice veneers, and now she is throwing the parties and having the time of her life!
Old, Stained Bonding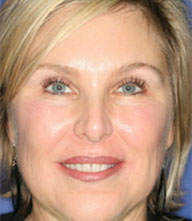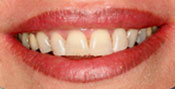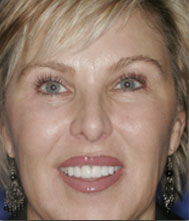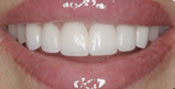 Years ago I had bonding on my front teeth due to vertical splitting and chipping. This had long ago worn off and my front teeth were starting to be brittle and chipped on the ends. When Dr. Smith told me how much I would "love" veneers I said, "sign me up!" I was amazed at how little discomfort I felt, and I really had no down time. Little did I know after I received the veneers that I had been subconsciously hiding my smile because I did not want my front teeth seen. Now I love smiling so everyone can see my beautiful teeth.
Tetracycline Staining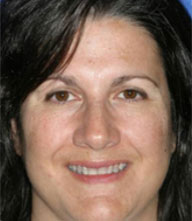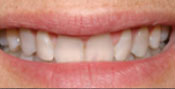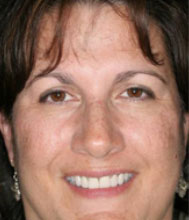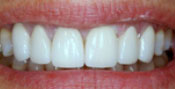 I had tetracycline staining but it was not the worst, just bad to me. I was always self conscious when I smiled and you know I love to joke around and laugh. Then the unthinkable happened and the nerve in my front left tooth died!!! My options were limited but all included removal of the tooth. After oral surgery, a bone graft and a temporary bridge I finally received my beautiful teeth. I am so proud and pleased with the finished product. I smile all the time and never doubt that my teeth look dazzling!