All-on-4 — Irving, TX
Gain the Functionality of a Full Arch
Dental implants are widely considered to be the most effective restorative solution for patients who are missing one or more teeth. In cases in which a patient is completely edentulous — or missing all of their teeth — a procedure known as All-on-4 in Irving may be recommended. This revolutionary restorative process allows patients to replace an entire arch of missing teeth using just four dental implants, all in a single visit to our practice. Below, learn more about this remarkable treatment, and if you have questions about what you read or would like to schedule a consultation, contact the team at 21st Century Dental of Irving. We are ready to help you!
Why Choose 21st Century Dental of Irving for All-on-4?
New, Lifelike Teeth in a Day
Renewed Oral Function & Confidence
Multiple Implant Specialists In-Office
How Do All-on-4 Implants Work?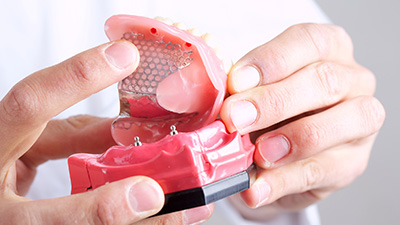 Dental implants are biocompatible posts that are surgically placed within the gum tissue and bone of the jaw. These implants serve as the sturdy anchors to which a beautiful new restoration is securely attached. With the All-on-4 concept, only four dental implants are needed to support a full prosthetic arch of custom-crafted teeth. Due to their strategic placement and tilted orientation within the bone, All-on-4 dental implants can even be placed in patients with minimal bone volume in the jaw.
Following the placement of the implants, the patient immediately receives a temporary restoration. Later, that provisional denture is replaced with a permanent one.
Am I a Candidate for All-on-4 Implants?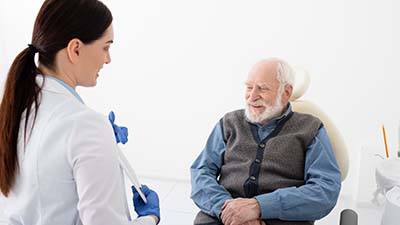 Ideal candidates for All-on-4 dental implants in Irving:
Are missing all or most of their teeth throughout a dental arch
Have adequate jawbone density to support dental implants (most patients meet this criterion even without a bone graft)
Are determined to stick to good habits that will support their new smile's long-term health
Are in good enough health to recover well from a minor surgery
Are free of active gum disease and other serious oral health conditions
If you are not sure if you qualify for All-on-4, please schedule a consultation. Most patients are candidates, either right away or after one or more preparatory procedures.
What Are the Benefits of All-on-4 Implants?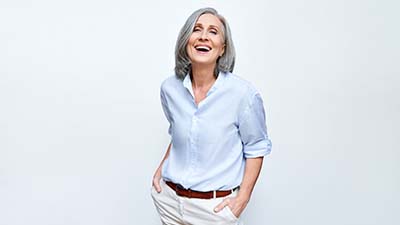 Some of the most remarkable benefits of All-on-4 include:
An All-on-4 denture provides a strong bite force that can stand up to virtually any food, including those that traditional dentures cannot handle.
We carefully design All-on-4 dentures with the goal of making them look as natural as possible.
Easy maintenance. Your denture will be permanently fixed in your mouth, which means you can treat it in almost the same way that you would treat real teeth.
Jawbone preservation. Dental implants act as substitute tooth roots. They stimulate the jawbone and prevent the deterioration that normally occurs after tooth loss.
All-on-4 vs. Traditional Dental Implants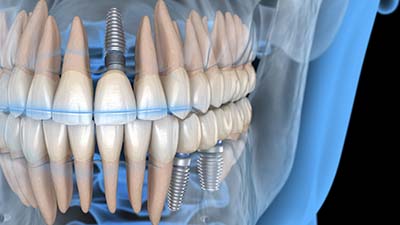 In general, All-on-4 is faster and less costly than traditional implant procedures. It is also less invasive because it uses as few implants as possible and typically requires just one surgery as opposed to two or more. Of course, there are instances where traditional implants might be the better option. For example, placing more implants may provide the highest level of strength and stability possible. Your implant dentist in Irving will help you compare the pros and cons of all of your treatment options so you can make the choice that is the best fit for your unique circumstances.