Single Tooth Implants – Irving, TX
Replacing Individual Teeth – Roots & All
Even one lost tooth can impact your oral health negatively. Following the loss of a tooth, the surrounding teeth may shift to fill the gap in your smile. Excess pressure on remaining teeth can lead to excessive dental wear and greater risk for chips and cracks. Long-term, one unreplaced tooth can allow the breakdown of supportive bone and gum tissue that will lead to further tooth loss. At 21st Century Dental & Sleep center, we offer a variety of affordable, effective tooth replacement options to fully restore your smile, including dental implant tooth replacement. When you're ready to get started with your single implant tooth replacement plan, call our dedicated dentist and team to schedule an appointment at our dental office in Irving. During your consultation appointment, we'll walk you through all of your tooth replacement options and help you to choose the right solution to meet your unique oral health care needs.
Single Tooth Replacement Options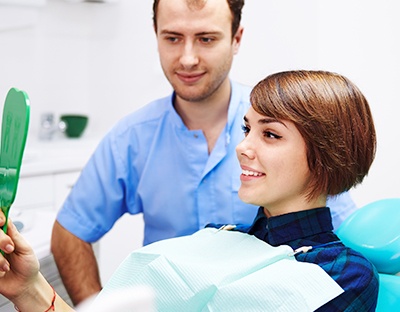 There are two main options available to replace one lost tooth – traditional fixed bridges and implant-retained dental crowns. Both restoration options offer unique benefits, and during your tooth replacement consultation, we'll help you evaluate both treatment options to make the best choice for your situation.
Fixed bridge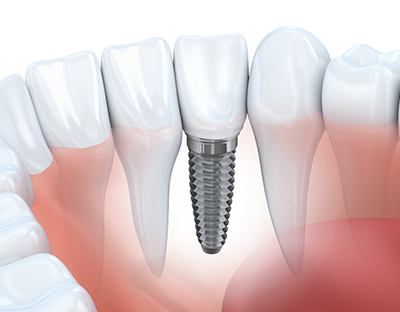 To replace one tooth with a traditional fixed bridge, you'll need to have healthy teeth on either side of the gap in your smile. We'll remove a small amount of surface tooth enamel from these teeth to allow for the placement of a dental crown. Then, we attach a replacement tooth to the two dental crowns, bridging the gap in your smile recreating flawless, healthy dental structure.
Single tooth implant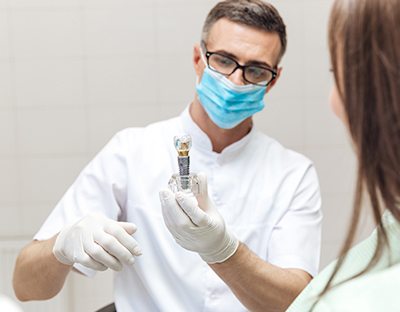 A single dental implant post can be used to support a dental crown. The process is completed over the course of several phases of treatment. We begin by preparing your smile by removing damaged dental structures and placing gum or bone tissue grafts as necessary. Then, we surgically place your dental implant post. Once in place, the dental implant will need several months to fully fuse with the supportive structures. Once this fusion process is complete, we attach the abutment that connects the implant to the dental crown. After placing the abutment, we design your custom crown. When we receive the dental crown from the lab, you'll return to the office, so we can attach the crown to the implant post.
What Are the Advantages of Replacing a Missing Tooth with a Dental Implant?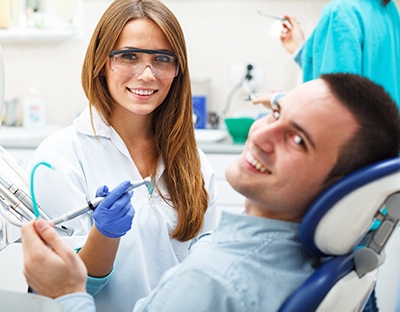 Before you start your complex dental implant tooth replacement plan, we want you to understand what makes this restoration option so unique. The benefits of these tooth replacement options make them well worth the investment for many people. Some of the many advantages of single tooth dental implant placement include:
Traditional fixed bridges rely on the removal of healthy tooth structure to provide support for the dental bridge. The dental implant supported dental crown is fully self-supporting, protecting your healthy teeth. Additionally, the implant posts mimic the root structure, providing stimulus to maintain healthy jawbone and gum tissue.
A fixed bridge will need to be repaired or replaced every five to ten years to maintain the optimal results, but your implant supported dental crown may last 30 years or longer with proper care.
Once in place, your implant supported dental crown will look, feel, and function just like your natural smile. You can even brush and floss your replacement tooth just like you would the rest of your healthy teeth.