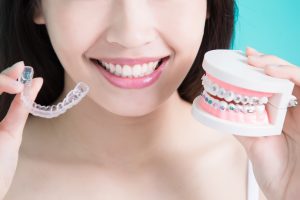 Are you concerned about the alignment of your teeth? Have
you always wanted a straighter smile, but you have yet to make the investment?
Now, you have a couple different options for orthodontic treatment in Las Colinas. Traditional braces or clear aligners can move your teeth into their correct positions, but how do they work? Each uses a slightly different method to align your teeth.
Enjoy a Straight Smile
Often, it is believed straight teeth only offer aesthetic benefits, but this is not true. Although properly aligned teeth will improve your confidence by giving you an attractive smile, there are other benefits as well.
When your teeth are aligned, they are easier to clean. This reduces your risk of tooth decay and gum disease. You will also enjoy a lower risk of dental emergencies. When you have protruding or rotated teeth, they often take the brunt of the force if there is trauma to your face. This can lead to broken, dislodged, or knocked out teeth. You can help to protect them from an injury by moving them into alignment.
Options for a Straight Smile
The most traditional orthodontic treatment uses metal braces in Las Colinas. Brackets and wires are attached to your teeth. Every few weeks, adjustments are made to the wire to gradually pull your teeth into position. This method is effective for treating even the most complex bite and alignment issues. It can take a couple of years to complete your treatment. When your braces are ready to come off, you will need a retainer to prevent them from moving back into their previous positions.
As an alternative to traditional braces, many people are now choosing clear aligners. Impressions of your mouth are used to create a series of aligners. Each aligner gradually moves your teeth into position. You must be committed to wearing them for at least 22 hours per day. You switch to the next aligner in the series after one to two weeks. On average, it takes about 12 months to complete your treatment. You will need a retainer to help maintain your results.
Which is Right for Me?
If you are ready to invest in your confidence and your oral health, you need a consultation with your dentist. After assessing your alignment and bite issues, they create a customized treatment plan to meet your needs. They will help you determine which treatment will give you the results you want while also accommodating your lifestyle.
You do not need to live with crooked, gapped, or rotated teeth. You can achieve a healthy, beautiful smile with braces or clear aligners.
About 21st Century Dental & Sleep Center
21st Century Dental & Sleep Center is committed to improving our patients' quality of lives and their oral health. We offer the latest solutions to promote the health and appearance of your teeth. If you are ready for braces or clear aligners, contact our office today to start your journey to a straight smile.