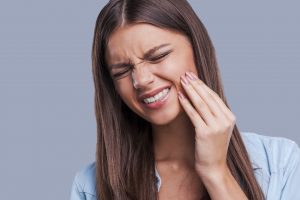 Around the ages of 16 to 19, a third set of molars erupts, known as the wisdom teeth, creating a total of 32 permanent teeth. In the past, it was believed the extra set of molars was needed to help chew raw and hard foods. However, now it appears the wisdom teeth serve no real purpose. In addition, it is not uncommon to have these teeth extracted due to causing a variety of complications. In fact, wisdom teeth are extracted from roughly 5 million people in the United States each year. While the teeth are routinely extracted, not everyone needs them removed. As a dentist for wisdom tooth extraction in Las Colinas, we have the information you need to help determine if you might need your wisdom teeth removed.

Signs of Wisdom Tooth Complications
Most people do not have the space in their mouth to accommodate the third set of molars. When there is not enough room for the teeth to erupt, pain in the back of the mouth is common. In some cases, the teeth may erupt; however, not without complications.
It is not uncommon for the teeth to erupt sideways or misaligned with the other molars. This can cause pressure on the nerves and bone, while also causing crowding of the teeth. When this occurs, there is often pain, redness, and tenderness around the site of the third molars.
While the teeth erupt, there is an increased risk for infection as bacteria enters the open tissue. The oral infections are quite painful, while also increasing the risk for overall health complications. In some cases, the teeth may not be able to erupt correctly, becoming impacted. An impacted wisdom tooth occurs when the tooth is blocked by adjacent teeth or bone. If the impacted tooth is not removed, oral and overall health can significantly decline.
In addition to pain and discomfort, there are other indicators that may point to the need for extraction, such as foul breath and bad taste. These are due to an infection. When left untreated, cysts can develop.
Wisdom Tooth Removal
If you suspect you need your wisdom teeth removed, you will need a consultation for oral surgery in Las Colinas. The American Dental Association recommends an initial consultation is performed around the age of 16 to predict potential complications with the eruption of the teeth. However, it is never too late to have a wisdom tooth consultation.
We will use diagnostic images and a visual examination to determine if your wisdom teeth are causing problems. If we see an area of concern or predict a future problem, we will likely recommend you have the teeth extracted. Wisdom tooth removal is performed by an oral surgeon under local or general anesthesia. A customized plan for removal is created depending on the placement of the tooth and several other factors, such as if bone is covering the tooth.
If you need wisdom tooth removal, contact 21st Century Dental & Sleep Center. We offer the consultation necessary to restore your oral health and quality of life.