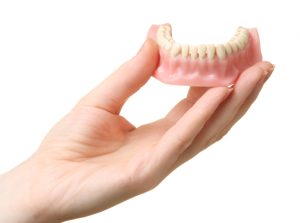 Dentures are among the most common and convenient options to replace missing teeth because they are affordable and effective. With roughly 35 million Americans missing all of their teeth, it is estimated 15 percent of the edentulous population have dentures made annually. At 21st Century Dental & Sleep Center, we help those will tooth loss regain oral functions and their smiles with dentures. When compared to receiving other forms of tooth replacement, such as dental implants, the process to receiving dentures is quicker and noninvasive. If you are ready to replace missing teeth with dentures in Irving, we have the information you need to better understand the process.

What to Expect with Dentures?
Dentures have held a common place in traditional dentistry to replace missing teeth because they offer a cost-effective and fast solution. With a well-fitting set of dentures, you regain your ability to eat, speak and smile confidently. Due to various advancements over the years, dentures now look more natural while also offering added comfort. To begin the process to receive dentures, you will need to undergo an initial appointment. During the appointment, the health of your gums will be evaluated, as well as any remaining natural teeth. This will involve a visual examination and the use of x-rays to evaluate the health of the jawbone.
At this time, it will be determined which form of dentures will best suit your needs: partial dentures, conventional full dentures, immediate dentures, or overdentures. It may be decided that you need additional procedures prior to receiving your dentures, such as tooth extractions or removing excess gum tissue.
To create your new dentures, impressions are taken of your mouth and gums. This ensures the dentures are created to your exact specifications for the right fit for added comfort and stability. Generally, you can expect the entire process to take about four to five appointments because adjustments will need to be made to ensure the highest level of comfort and function.
After your new dentures are ready, it will take some time to get used to the dental prosthetics. While dentures are now made to closely mimic the appearance and function of natural teeth, they will never feel like your own teeth. As a result, your new dentures may feel a bit bulky or uncomfortable at first. Over time, the discomfort will fade and you will no longer notice your dentures are in place.
As time goes on, the shape of your gums and jawbone will change. You will require adjustments periodically to ensure the right fit and to protect the longevity of your dentures.
Get a New Smile with Dentures
As a dentist in Irving for dentures, 21st Century Dental & Sleep Center offers multiple forms of dentures to meet your needs. We offer complete and partial dentures to replace your missing teeth. We even offer the convenience of immediate complete dentures so you can walk out with a new smile.
If you are ready to replace your missing teeth with dentures, it is time to contact 21st Century Dental & Sleep Center to schedule an appointment.