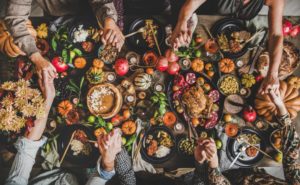 Just like that, it's the time of the year when everyone gives thanks. Your family, friends, and the good food are all reasons to be grateful this Thanksgiving. However, if you have missing teeth replaced by dental implants, this amazing dental treatment is surely something you should appreciate. For a quick reminder, read to learn some of the top reasons to be thankful for your dental implants this holiday season.
#1. Better Confidence
It's no secret that dental implants come with many benefits that change your life. However, one not so obvious reason to be thankful is a boost in self-esteem. With a full, healthy, and beautiful set of teeth, you can speak and grin in any social or professional setting with confidence. Self-consciousness and embarrassment from missing teeth or ill-fitting dentures are things of the past!
#2. Improved Appearance
Missing teeth, whether one or most of your smile, take away from your natural beauty. In fact, your smile is the second physical attribute that people notice about you when you meet. Dental implants provide you with lifelike, beautiful teeth. Unlike other replacement options, they mimic the way your natural teeth emerge from your gums to seamlessly complete your smile. Plus, the size, shape, and shade of the restorations mounted on your implants are personalized for the best results.
#3. A Permanent Solution
Unlike traditional bridges or dentures, dental implants themselves can last for decades with proper care. By brushing, flossing, and visiting your dentist regularly, you can enjoy your dental implants for the rest of your life. This longevity provides peace of mind that you can't get with other tooth replacement solutions.
#4. Lowered Health Risks
Dental implants improve your appearance AND your health! They stimulate the jawbone to keep it full and strong, which helps you maintain your remaining teeth and youthful facial appearance. Dental implants also reduce the chances of common oral health issues like cavities and gum disease because they make it easier to care for your smile.
#5. Eat Your Favorites
What's Thanksgiving without being able to chow down? With missing teeth or ill-fitting dentures, it can be difficult to chew through delicious turkey or veggies. However, thanks to dental implants, you can eat virtually anything you want year-round! Firmly rooted in the jawbone, your dental implants aren't going anywhere when you bite into food.
While there is so much to be thankful for, your dental implants are truly something to smile about this Thanksgiving! Enjoy your feast with happiness, confidence, and health thanks to your amazing tooth replacements.
About the Practice
At 21st Century Dental of Irving, Dr. Kent Smith and his team proudly offer the entire dental implant process (placement and restoration) at the same convenient location. With a team of experts and the latest technology, we're ready to help you enjoy a full, happy smile. To schedule an appointment, we can be reached through our website or by phone at (972) 255-3712.