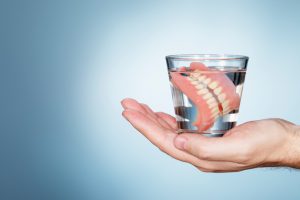 When it comes to treating tooth loss, dentures have been the most convenient and affordable solution for more than 100 years. Dentures are a removable dental prosthetic that restores oral functions. The custom-made devices are worn over the gums to allow for eating, speaking, and to support facial structures. New advancements in dentistry now allow for dentures to look and feel more natural than ever before. As a dentist for dentures in Irving, we often recommend dentures to our patients to treat tooth loss.

What are Dentures?
Although dentures will never feel or function like natural teeth, dental advancements have enhanced the level of comfort and function dentures now offer. Dentures consist of an acrylic base that matches the color of flesh to provide a more natural appearance. These arches fit over the gums, which are created specifically for your individual oral measurements. The arch features prosthetic teeth to restore chewing and speaking abilities. Using a denture adhesive, the arches are held in place, which makes the dentures easily removable at the end of the day.
Types of Dentures
As a denture dentist in Las Colinas, we offer various types of dentures, including full and partial dentures. Conventional dentures are the most widely used and recommended among dentists. A conventional denture involves placing the denture after removing all of the remaining natural teeth. Prior to placing the denture, the tissues must have fully healed, which can take several months. While this does mean you may be without teeth for some time, this allows the mouth to fully heal and provides more accurate measurements to ensure your dentures fit comfortably for minimal slipping.
In some cases, immediate full dentures are used, which are placed immediately after the teeth have been removed. While this option does provide you with teeth right away, adjustments will be needed in a few months as the bone heals and reshapes.
Partial dentures are used for those who still have some remaining natural teeth. A partial denture uses a metal frame, which is attached to the natural teeth. In some instances, metal crowns are used to anchor the partial to the adjacent teeth. Often, partial dentures are used as an alternative to dental bridges.
How Long Will Dentures Last?
To protect the longevity of your dentures, they will require the right care. You should only use nonabrasive products and products that are specific to the care of dentures. Dentures require daily cleaning to remove food deposits, plaque, and to decrease staining. Your dentures must be kept moist at all times which means they will need to be placed in a denture solution when they are not in the mouth. While dentures are durable, they can break, so be very careful when handling them and avoid potentially damaging activities.
Your Dentist for Dentures in Irving
Are you ready to regain oral functions with dentures? Are you asking yourself, where is a dentist near me for dentures? 21st Century Dental & Sleep Center is the answer to your questions. We offer a diversity of tooth replacement options, including dentures in Irving. We will help you regain your smile with dentures.