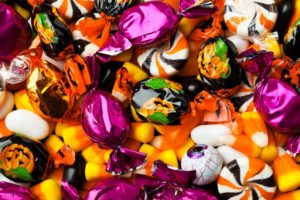 Halloween is the best time of the year for children – they're allowed to dress up, and of course, get free candy! However, goblins and ghouls aren't the only things scary about Halloween. This sugary season causes a dramatic increase in cavities, which is down-right spooky! Thankfully, your dentist has included 5 tips for helping your son or daughter enjoy October 31st without putting their teeth at risk.
#1. Watch Out for Sticky Candy
Gummies, taffy, toffee, caramel – all Halloween staples that you can find on every block during spooky season. However, these are the worst items for your kids' teeth. They stay in contact with the smile for longer periods of time, increasing the risk of cavities and decay. For this reason, it's a good idea to limit your loved ones' consumption of sticky sweets.
#2. Choose Chocolate!
If your child wants to indulge, steer them in the direction of chocolate. This treat washes away from teeth easily and dissolves quickly, making it less risky than sticky sweets. Additionally, dark chocolate is actually good for your kids because it's rich in antioxidants.
#3. Avoid the Hard Stuff
Candies come in all shapes, sizes, and textures. You should especially be on the lookout for extra hard candy like jolly ranchers, jawbreakers, and more. Children often get anxious and bite down on these popular sweets, leading to possible chips, cracks, and breaks in their smiles. This can also worsen pain for existing dental issues like cavities or sensitivity. Plus, hard candy gets directly in the saliva, which coats the teeth in sugary spit!
#4. Don't Forget the Oral Health Routine
It's easy to let all the excitement and festivities take over, but don't forget about regular brushing and flossing. This is especially important because it's your child's best defense against cavities. Make sure they're brushing their teeth twice a day for two minutes each time. Flossing is also vital because it will clean away pesky bits of candy that get caught in between teeth.
#5. Use Toothpaste with Fluoride
Fluoride is a natural mineral that is an absolute smile-saver for kids. It strengthens enamel to help prevent your child's teeth from decay. That's why you should stock your bathroom supplies with fluoridated toothpaste. This extra layer of protection is the safeguard your loved ones need for the Halloween season.
The season of fright is here, which is sure to make your child smile. However, you won't have to worry about the scary risk of cavities as long as you keep these simple tips in mind!
About the Practice
At 21st Century Dental of Irving, we have a team of 4 dentists who combine their expertise and training to offer high-quality dental care for patients of all ages. We provide routine checkups, fluoride treatments, and so much more for children. To schedule an appointment, you can reach us through our website or by phone at (972) 255-3712.