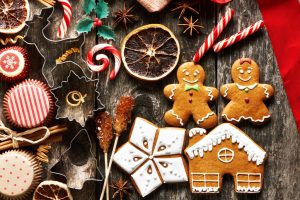 With the holidays just around the corner, get ready to be exposed to foods, beverages, and goodies you wouldn't normally eat. While this is a fun time to enjoy different foods with friends and family, it's also important to be wary of certain treats that can wreak havoc on your oral health. 21st Century Dental & Sleep Center is here to help guide you through the perils of holiday eating. Your dentist in Irving offers healthy holiday tips.
Avoid Chewy Treats
Sticky, chewy treats such as caramels are double trouble for your teeth. Not only will they stick to your teeth for long periods of time, they can also pull out dental restorations such as fillings. When candy sticks to your teeth, it increases your risk for tooth decay and cavities.
Maintain Your Home Care Routine
While your regular routine will likely be disrupted during the holiday festivities, it's important to try and brush at least twice per day and floss at least once. Brushing removes the harmful plaque and bacteria that cause tooth decay and gum disease. Flossing removes the plaque and debris from in between your teeth, and believe it or not, you can actually get cavities in between your teeth.
Avoid the Candy Canes
Hard candy is also a double-edged sword for your teeth. Biting or chewing on candy canes or hard candy could actually crack or fracture your teeth. Sucking on hard candy is not a better choice as it bathes your teeth in the sugar and acids that cause tooth decay.
Watch Out For Nuts
Don't try to crack or shell nuts with your teeth, as this can lead to also cracking your tooth. When your tooth becomes fractured, it's at risk for developing an infection. You'll need to have your tooth repaired in order to protect it from infection, decay, and further damage. Avoiding nuts can help avoid a dental emergency situation.
Your trusted team at 21st Century Dental & Sleep Center wants you to enjoy your holiday season! Keeping these tips in mind as you enjoy holiday meals, parties, and other festivities will ensure that you avoid painful dental emergencies, and costly damage to your teeth that may put a damper on your holiday season.
Our highly skilled team of doctors provides high quality dentistry to patients in Las Colinas in a modern, calming, spa-like setting. Along with our general dentistry services, our specialists offer a wide range of advanced services including comprehensive implant dentistry, sleep apnea treatment, periodontal treatment and surgeries, and sedation dentistry. Contact our office today to get your next appointment scheduled and learn more about us.