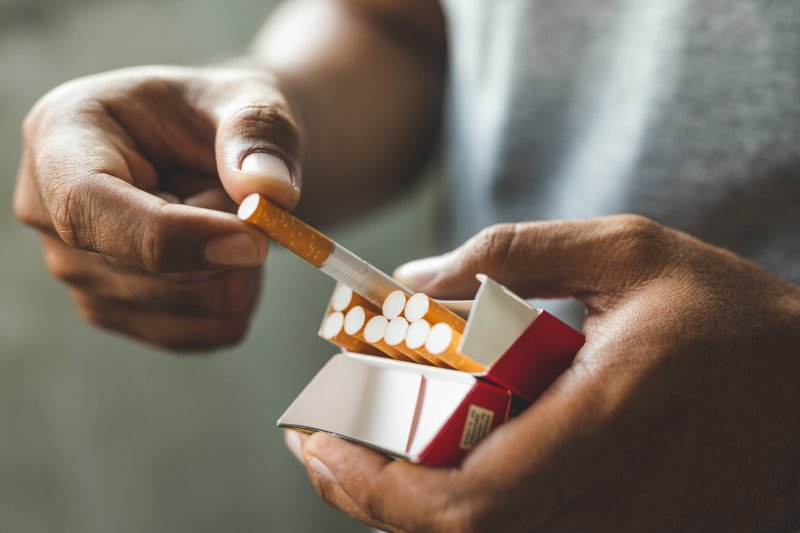 It's no secret that dental implants are considered the gold standard for tooth replacement. Unlike traditional solutions that only replace the visible portion, these prosthetics restore the full root-to-crown structure. If you are considering them to replace your missing teeth, you won't regret your decision; however, if you use tobacco, you may find that your investment is short-lived. When asking the question, "Can I smoke and get dental implants," a dentist answers by explaining the potential problems that can arise.
How Bad is Smoking For Your Oral Health?
The Centers for Disease Control and Prevention (CDC) estimates that around 16 million people suffer from diseases and conditions that stem from the use of tobacco. Cigarette deaths account for more than 480,000.
Apart from its dangers to your heart, brain, and other areas of the body, prolonged smoking can lead to heart disease, stroke, pneumonia, and even oral cancer. Lesions, gum tissue deterioration, bone loss, and peri-implantitis are all potential risks if you continue to smoke.
The link between dental implants and smoking, though, stems from the increased risk for gum disease, as nicotine irritates the gum tissue, allowing bad oral bacteria to attack. If left untreated, this can have a devastating effect on your dental implants, causing them to fail.
What Can Happen If You Smoke While Wearing Dental Implants?
Dental implants require a solid foundation for successful placement, which is why smoking can be detrimental to the longevity of your new prosthetics. And here are a few reasons why:
Smoking suppresses your immune system. As a result, your body cannot fight off infections like before, so if you develop peri-implantitis or any other oral health problem, it can negatively affect your dental implants and smile as a whole.
Smoking or using tobacco can make it harder to heal. Because osseointegration is necessary to ensure success, your implant posts may not be fully integrated with the bone tissues if you continue to smoke.
Smoking increases the chances that you will develop an infection following your surgical procedure.
Will I Have Success with Dental Implants?
While there are plenty of people who continue to smoke and wear dental implants, it is not advised and highly discouraged. If you want to avoid the potential for dental implant failure, it is suggested that you seek cessation resources to stop smoking before you receive your permanent prosthetics. This will increase your chances of enjoying a longer-lasting smile that remains healthy from the moment an implant dentist puts your posts into place.
Dental implants can be a life-changing solution for anyone suffering from tooth loss. Make sure your oral and overall health are in good shape and prepare to enjoy a healthy, beautiful smile for decades to come.
About 21st Century Dental of Irving
Dr. Kent Smith is a general dentist who also specializes in sleep medicine. Overseeing various practices throughout the Dallas/Ft. Worth areas, he is skilled and equipped to provide dental implants to patients looking to restore their smiles by replacing missing teeth. If you need help to regain oral functionality and feel confident in your appearance once more, visit our website or call (972) 255-3712.