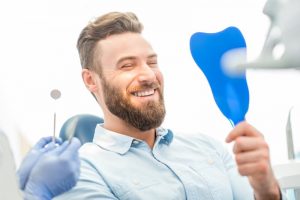 When you look at your smile in pictures or in the mirror, do you like what you see? If you answered no, you don't have to accept your teeth as is. You can get a smile makeover and fix the problems you notice. Your cosmetic dentist can make a huge difference for you, whether it's through teeth whitening, porcelain veneers, or gum recontouring. Keep reading to learn the five top reasons to opt for a smile makeover.
Better Oral Health
Believe it or not, some cosmetic dental procedures have health benefits for your mouth. For example, straightening your teeth is about much more than just aesthetics. Keeping all the nooks and crannies in your teeth clean and protected from harmful bacteria is hard enough when you have perfectly aligned teeth. If, however, you have crooked teeth, that job becomes much more difficult. Clean teeth are healthy teeth, and the simple truth is that straight teeth provide the most conducive environment to oral health. Choosing to makeover your smile through orthodontics can help you in your efforts to prevent cavities and gum disease more efficiently.
Restoring What You've Lost
Although teeth are certainly strong, they are by no means indestructible. They can be damaged by an injury or decay. After the cause of the problem has been removed, you may be left with an incomplete smile that not only doesn't look appealing but also can't perform the functions your teeth need to. Restorations, such as fillings, crowns, or dental implants, are available and can rebuild your smile, giving you back your smile's beauty and its strength.
More Pleasing Appearance
Whether you've had damage or decay or you simply don't like the look of your teeth, a smile makeover enhances the appearance of your smile. Did you know that a good looking smile can be a powerful thing? In a study where people were asked to choose their favorite between a photo with a person with full makeup and a straight face and a photo of the same person without makeup but with a smiling face, participants chose the smiling face photo. Other studies have shown that people with a pleasing smile are considered more successful and trustworthy. By addressing your smile's appearance, you can improve how others perceive you.
More Confidence
If you know that your smile looks good, you can develop stronger self-esteem and confidence. As you approach someone you're interested in at a party or your boss about that raise you deserve, you're not going to feel embarrassed to show off your teeth. With a smile makeover, you can have the courage to reach your professional and social goals.
Better Mental Health
Over and over again, research has proven the positive health benefits of smiling, particularly on your mental health. Those who smile more often tend to be happier overall, and even those who smile when they don't feel happy experience a boost in their mood. If you aren't happy with your teeth, then you may not want to smile as widely or as often, depriving you of these helpful health benefits.
Regardless of the cosmetic procedure or need, your dentist can help you achieve your smile goals. That way, you can flash your beautiful teeth more often and more widely with less worry about your appearance. So what are you waiting for? Schedule an appointment with your dentist to get on the path to the smile you've always wanted!
About the Practice
Since opening its doors in 1985, 21st Century Dental & Sleep Center has been dedicated to using modern technology and techniques to deliver quality dental care for their patients in Las Colinas and other areas in Irving. The four dentists have years of experience and offer a wide range of cosmetic dental services, including porcelain veneers, teeth whitening, orthodontics, Snap On Smile, cosmetic bonding, tooth and gum recontouring, and more. To schedule an appointment with them, call (972) 255-3712 or click here.