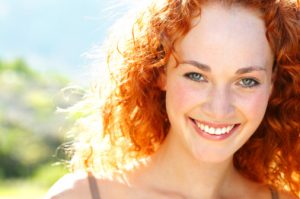 Many patients who are happy with their dental health, still find themselves unhappy with their smiles because the time they've spent maintaining their oral health hasn't prevented tooth discoloration. Even those with the most thorough flossing and brushing routines fall victim to teeth staining, yellowing, and darkening. The good news is, there's a simple solution for many patients who are unhappy with the color of their smile: the professional, take-home teeth whitening Irving, TX residents prefer from the cosmetic dentistry experts, 21st Century Dental Med Spa & Sleep Center. Call to schedule an appointment with our skilled DFW Metroplex dentistry team.

Teeth Whitening Facts from the General Dentist Irving Loves
The truth is, not every patient is a candidate for teeth whitening, but at 21st Century Dental, we take the time to thoroughly examine your staining or discoloration and determine whether our teeth whitening system can effectively revamp your smile. This process typically involves x-rays and a clinical examination as well as a series of consultation questions to determine the origin of dental discoloration. In some cases, the solution may be more advanced restorative options. For instance, when discoloration is caused by dental trauma or pulp degeneration, a crown or other restoration may be necessary. In other cases, staining caused by tetracycline (antibiotics) and other deep set stains may be better repaired by covering with a porcelain veneer.
Patients who are most likely to benefit from professional teeth whitening are those who have deep-set stains. Staining typically begins on the surface, enamel of the tooth, but over time, stains seep through to the supportive, dentin layer. Stains that reach this inner dental structure are not able to be removed with brushing or over the counter whitening products alone, but with professional-grade whitening solutions from 21st Century Dental, patients can brighten their smile up to ten shades in two to three weeks.
Professional vs Drugstore Teeth Whitening Products
Deep-set stains that have reached the dentin layer can only be removed by the chemical effects of hydrogen or carbamide peroxide. While drugstore whitening strips, gels, mouth rinses, and tooth pastes contain peroxide, they typically do not provide the optimal balance for dramatic results. At 21st Century Dental, we offer patients customized application trays and a variety of day and night wear gel formulas to meet patients' individual needs. Where many over the counter whitening products fall short is at sealing in the whitening gel. Peroxide is great at removing stains from teeth, but it can be damaging to soft tissue. Additionally, the neutralizing effects of saliva that typically prevents damage also neutralizes the effects of whitening products. The custom-made application trays provided by the cosmetic dentist Irving residents trust at 21st Century Dental, fit snuggly around the teeth protecting the gums, and ensuring maximized results.
Call the Cosmetic Dentist Irving Relies on for Teeth Whitening
Call the cosmetic and general dentist Irving residents rely on for preventive and restorative dentistry, teeth whitening, and spa treatments. 21st Century Dental looks forward to helping patients in the DFW Metroplex get the healthy, brilliant smiles they desire.