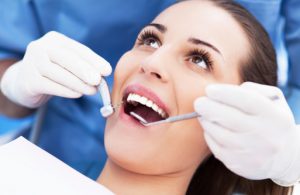 For patients missing one or more teeth, the worst dental health consequences may not be obvious right away. Some people choose to live with the mild embarrassment of having a missing tooth due to expense or to avoid discomfort, but the most detrimental effects of missing teeth are the unseen consequences taking place below the gum line. Teeth support the health of gum tissue, and stimulate bone density preservation and development. When teeth are missing, soft tissue and bone deteriorate over time. As this deterioration occurs, surrounding teeth shift to fill in spaces leaving the entire smile compromised by one missing tooth. As jawbone density decreases, this prevents the future option of ever getting an implant due to inadequate bone support.   Shifting occlusion due to missing teeth can lead to TMJ disorder, especially in patients who clench or grind the teeth. Cosmetically, multiple missing teeth cause facial sagging or caving in, and leave unsightly gaps in smiles. Whether you're missing one tooth or a full arch, the experts at 21st Century Dental recommend replacing your teeth to maintain oral health. Call to schedule a smile consultation at our convenient Irving, TX dental practice today.

Dental Crowns Irving Residents Prefer
Patients who have a chipped, cracked, or root canal treated tooth will likely need a dental crown for optimal smile restoration. A crown is a custom tooth restoration that fits over the top of prepared teeth when they become too weak to continue to support fillings. Crowns make it possible to retain existing dental structure and provide the necessary shape and stability to fully restore smiles, while supporting weakened aspects of the teeth. Crowns are permanent, and look and feel like natural teeth. We now have non-metallic dental crowns that are as strong as gold, but with the esthetics of a natural tooth.
Full Smile Restoration with the Dental Bridge Irving, TX Prefers
For patients missing a tooth or who have inadequate structure remaining to support a replacement tooth, crown supported bridge teeth can be used to fill the gaps in smiles. One of the skilled dentists at 21st Century Dental prepares teeth surrounding the empty socket to receive crowns, and takes impressions of the missing teeth, prepared teeth, and full bite. Our trusted dental lab uses these impressions to create a single dental prosthetic to replace one to three missing teeth in a row. The replacement teeth consist of "bridge" teeth to fil the smile gap, and crowns that are securely bonded to teeth on either side of empty sockets. Once the crown and bridge are in place, they blend seamlessly with surrounding teeth, and can be brushed and flossed like natural teeth. With proper care and maintenance, crown and bridge tooth replacement is permanent, and can last a patient's lifetime.
Call Your General Dentist Irving – 21st Century Dental
Our team is ready to help you fully restore your smile whether your tooth is damaged, lost, or you need a full row of teeth replaced. We have permanent and removable tooth replacement options to fully restore your smile no matter how damaged. Call to schedule your smile consultation with the general dentist Irving, TX turns to, 21st Century Dental.