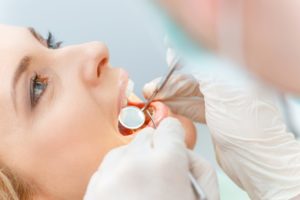 The beginning of the year is a busy time for most people. Whether you are preparing tax documents, working hard to keep your New Year's resolutions, or occupied by other activities, a visit to your dentist might be the last thing on your mind. However, the start of the year is actually the perfect time to schedule a dental checkup. Let's talk about 5 reasons why that is the case.
Maximize Your Dental Insurance
It's common for dental insurance policies to cover two preventive appointments each year at 100%. Sadly, many people do not attend both of those appointments. That might wait until June, July, or later to schedule their first checkup, which means they won't have enough time left in the year to wait six months and schedule their second one before their benefits expire. Arranging for an appointment in January or February leaves plenty of time for you to attend another one later.
Meet Your Deductible
It's common for dental plans to come with a deductible that you have to meet each year before your benefits start to cover approved services. For some policies, the deductible doesn't apply to preventive care. However, if your dentist finds a small issue during your exam, such as a small cavity, getting it treated right away can enable you to meet your deductible — and more importantly, it will prevent a little problem from becoming a big one.
Protect Your Smile
Plaque is a sticky, bacteria-filled substance that continually forms on teeth. It is easy to brush off. However, if it stays on the teeth for too long, it hardens into tartar, which is impossible to remove without the help of a dental professional. Tartar is often a big factor in the formation of cavities. Attending regular cleanings and checkups to get that tartar removed leaves you with a fresh smile that is at a lower risk of future problems
Get Started on New Habits
Do you have any goals for 2022 that relate to your oral health? For example, perhaps you plan to floss more regularly, quit smoking, or change your eating habits. Your dental team can help you. They are always happy to offer advice on things like oral hygiene techniques, product recommendations, and more. Visiting them early in the year can give you a leg up on reaching your goals.
Set a Good Example
If you have kids, your example is your most powerful way to teach them. When you visit your dentist early in the year, you show them that your oral health is important to you. As they grow up and start making more of their own decisions, they will be more likely to follow in your footsteps and take great care of their smile throughout their adolescence and adulthood.
Have you scheduled your first dental checkup of 2022 yet? If not, do it soon! You'll be able to use your insurance to the full, safeguard your oral health, and more.
Meet the Practice
The four talented, highly skilled dentists at 21st Century Dental of Irving are pleased to offer a range of general dentistry services. We welcome patients of all ages for preventive care, and we are ready to help your family take full advantage of your PPO insurance plan. To learn more about us and how we may be able to serve you, give us a call at 972-255-3712.