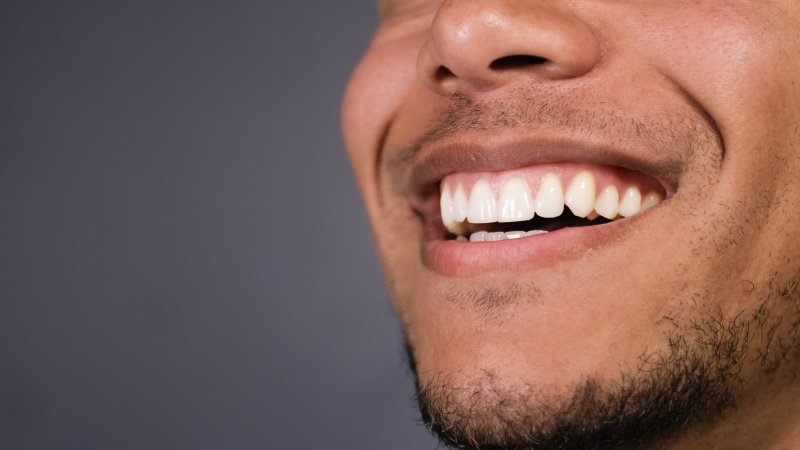 When people make their first impressions on you, you likely associate a bright, white smile with youthfulness and good health. However, a whiter smile doesn't necessarily mean that it is healthier. There are numerous reasons why discoloration can occur, and the concept that white teeth are healthier was suggested by advertisements. Continue reading to learn why whiter teeth aren't directly associated with good oral health.
Teeth Are Naturally Slightly Yellow
We might have a slight obsession with having white teeth, but the truth is that naturally white teeth have a slight yellow tint. The enamel of your teeth is the outer layer that you can see, and it has a blue-white color. However, when you make your way down to the middle layer called the "dentin," this is naturally yellow. Ultimately, if you have a healthy, dense layer of dentin covered by sufficient enamel, your teeth should be an off-white color with a slight yellowish appearance.
Teeth Become Discolored with Age
When you get older, you will probably notice that your teeth become more discolored. Even if you keep up an excellent oral hygiene routine, this change will still happen over time. This is because the tooth enamel becomes thinner, so you can see the dentin more. If you enjoy coffee or tea on a regular basis, smoke, or eat dark-colored foods, this will contribute to discoloration. Your genetics can even play a role in how white your teeth are. Having slightly discolored teeth does not immediately mean that they aren't healthy. During your regular cleanings and checkups, your dentist will always be on the lookout for dental issues.
Some Stains Can Indicate Issues
Discoloration isn't usually something to be concerned about. However, there are some types of staining that can suggest issues. For instance, some diseases, like fluorosis, can change the color of your enamel or dentin. Green stains could mean bacteria or fungi. Red, black, or brown stains could be linked to porphyria, a rare genetic disorder. If you have any concerns about discoloration or stains on your teeth, this is something to bring up during your next dentist visit. This way, you can discuss if they are an indication of a problem as well as cosmetic solutions if you aren't happy with the appearance of your teeth.
Discoloration isn't always a problem, and it's a natural part of getting older. If you notice anything strange, it doesn't hurt to ask your dentist. This way, you can work together to keep your pearly whites healthy and beautiful!
About the Practice
At 21st Century Dental of Irving, we have a team of four skilled dentists working together to serve patients in the DFW area. With their combined experience and expertise, patients can get pretty much anything they need under one roof. If you have any concerns about discoloration, they would be happy to help. For more information or to schedule a consultation, visit our website or call (972) 255-3712.