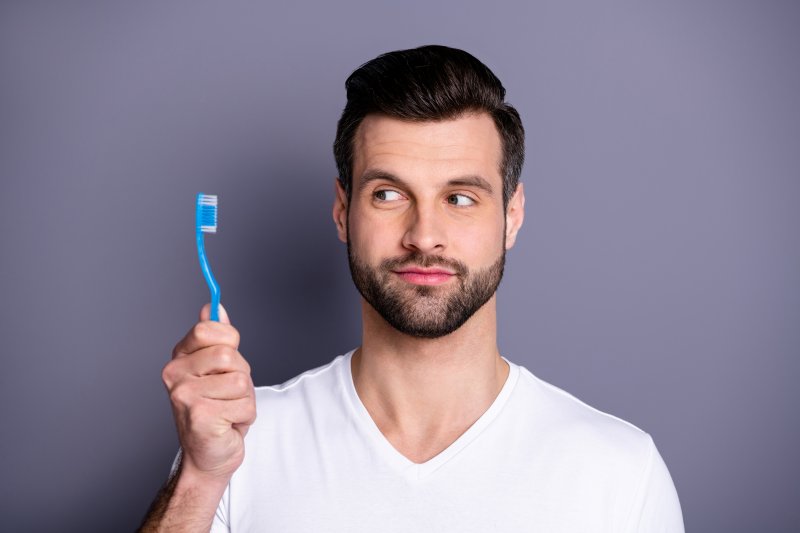 Question: When was the last time you purchased a new toothbrush? If it has been over four months, then you are not alone. In fact, 75% of people don't replace it as often as they should! But how do you know when it is time to change your toothbrush? And what happens if you don't? Read on for the answers!
3 Signs You Should Change Your Toothbrush
According to the American Dental Association, you should replace your toothbrush every three to four months. However, you should switch it sooner if you:
Have bacteria build-up – When you clean your dishes, dirt transfers onto the sponge. The same applies to your teeth and your toothbrush! As the bristles remove plaque, food particles, and bacteria, the debris begins to make a home on the brush itself. Just like you wouldn't clean your dishes with a dirty sponge, you shouldn't clean your teeth with a filthy toothbrush!
See frayed bristles – Over time, it is natural for the bristles on your toothbrush to become worn. However, continuing to use frayed bristles can exacerbate your gums and lead to aggressive brushing techniques.
Were recently sick – If you recently had a cold or flu, then you should replace your toothbrush to protect yourself from being continually exposed to those germs. Plus, replacing your toothbrush can avoid potential cross-contamination to other surfaces, like your family's dental tools.
3 Tips to Help You Remember
Amid a hectic schedule, it can be difficult to remember when you need to replace your toothbrush. To set yourself up for success, the first thing you should do is stock up on supplies. That way, you have everything you need on hand when it is time to change your toothbrush. Plus, here are three additional tips to help you remember:
If you have an electric toothbrush, have a new toothbrush head sent every three months automatically.
Create a reminder in your phone every quarter to throw away your old toothbrush.
Put a sticky note with the next date on your bathroom mirror.
At first, changing your toothbrush every three to four months can seem excessive. However, once you realize how much bacteria collect on the bristles, it's obvious why you should replace it frequently. That way, you can keep your teeth, gums, and oral health in pristine condition!
About the Practice
Since 1985, 21st Century Dental & Sleep Center has built their reputation on providing patients with personalized treatment options, modern amenities, experienced insight, and a compassion-centered approach to care. At each appointment, Dr. Kent Smith, Dr. Jeff Roy, Dr. Ashley Bristow, and Dr. Andrew Barnett use their clinical expertise and passion for their craft to help their patients achieve gorgeous smiles and pristine oral health. If you are overdue for your biannual appointment, don't hesitate to visit their website or give them a call at 972-255-3712.