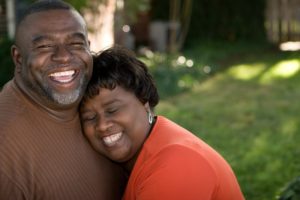 Valentine's Day is just around the corner! Are you ready? Whether you're planning on spending the day with your long-time love or going on a date with a new crush, it's important to be prepared for the best! Especially if you have dentures in Irving. After all, you don't want to miss out on a special romantic moment because of them! Fortunately, a few little tips and tricks can make kissing with dentures easy and enjoyable for both you and your partner. Read on to learn more!
Tips for Date Night with Dentures
It's normal to be a little nervous before your date, but there's no need to be self-conscious about your dentures! With a little preparation, you can feel confident in your smile. Keep these simple tips in mind:
Watch what you eat: Will you and your special someone be having dinner together on Valentine's Day? Whether you're going out to a restaurant or preparing a meal at home, the last thing you want is to have trouble with your dentures while you're eating. Do your best to stay away from overly hard or sticky foods that could unseat your dentures, and make sure to cut your food into small bites.
Practice your smooth talk beforehand: You don't want your dentures impeding your speech while you're trying to impress your date with smooth talk! To make sure your conversation flows smoothly throughout the whole night, try practicing speaking with your dentures beforehand if you're not feeling 100% confident with them.
Denture adhesive is here for you (if you need it): Your dentures should fit snugly in place simply due to natural suction. However, if you're still adjusting to your new dentures, or if you're planning on having your dentures refitted soon, you may want to use some denture adhesive to stabilize your smile.
Can You Kiss with Dentures?
In short, the answer is a resounding yes! You can certainly kiss while wearing your dentures. Modern day dental prosthetics are precisely crafted from the highest-quality materials, so you don't have to worry about them looking bulky or unnatural. As long as your dentures is held firmly in place thanks to its good fit or denture adhesive, kissing with dentures should be just about the same as kissing without them. Just make sure to take it slow at first to ensure everything goes smoothly. And, if your partner is open to it, remember: practice makes perfect!
Keeping Your Breath Clean & Fresh
Before you worry about how to kiss with dentures, it's important to make sure you're kissable in the first place! Make sure your smile is clean and fresh with these easy tips:
Practice great oral hygiene every day
Drink plenty of water throughout the day
Soak your dentures every night
Limit pungent foods like onions and garlic
Visit your dentist for checkups every six months
Dentures can help you get your smile and confidence back! Be prepared to show off both this Valentine's Day with the information above!
About the Practice
At 21st Century Dental of Irving, we pride ourselves in providing highly customized dental solutions with the highest quality materials and most advanced technology. We're proud to offer a variety of denture options, including implant dentures, to help you get the complete smile you deserve. Plus, we'll be happy to give you personalized advice for living life with your dentures during your routine checkups and cleanings. To learn more, we can be reached online or at (972) 255-3712.