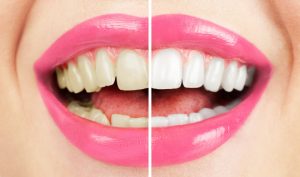 You know that feeling you get when you see someone walk by with a smile so white and bright you'd swear they accidentally spilled paint on it? First off, we really hope it isn't paint; that would be really dangerous. Second, there's a reason their smile is so bright, and it's most likely teeth whitening. Teeth whitening is one of the most popular cosmetic dentistry services available. Every day more and more patients are opting for teeth whitening treatment to get them the best smile of their lives. A white smile can be a powerful view to behold. White smiles grab attention and radiate confidence. At 21st Century Dental in Irving, TX, our team can get you the whitest smile of your life using our teeth whitening service. Not only will you see fast results and a beautiful shade of white, but you'll start to see your confidence improve. Are you ready for the whitest smile of your life?

Why Choose Whitening Treatment?
Why not? Having a white smile is one of the most rewarding feelings you can experience. You'll get countless looks (for all the right reasons) and may receive a compliment or two. You'd be surprised how many views your smile gets. It's one of the first things anyone notices about you and if it isn't up to snuff, there could be unwanted consequences.
There are certain situations in life where having a white smile can be extremely beneficial. Going on a date soon? There's nothing more attractive than a clean, white smile. Think about after the aforementioned date, what usually happens? (Let's keep it PG) A kiss, if you're lucky. Who wants to kiss a smile that's discolored? We sure don't. If you do have discolored or yellow teeth, it isn't the end of the world. Our teeth whitening services can work wonders.
We like giving our patients the power to choose when they want to whiten their teeth. That's why we offer take-home trays, so you can whiten in the comfort of your own home. Our office uses Nite White materials because their products are constantly being updated. Staying on the cutting-edge of whitening technology is what we're all about. Whatever can get you a whiter smile in less time is what we're all about.
If you'd rather go for a more permanent solution, porcelain veneers are always a good option. Though considerably more expensive than teeth whitening treatment, it blends in beautifully with your other teeth and is amazingly identical to your other teeth. For excellent porcelain veneers, Irving residents know they can trust us to deliver fantastic results.
Don't Waste Time – Schedule an Appointment Today
Time is of the essence when it comes to whitening. The sooner you see us, the faster you can start enjoying the results. It's Irving cosmetic dentistry at its finest. For the best teeth whitening, Irving, TX goes to 21st Century Dental. We're proud to serve the surrounding cities of Coppell, Grapevine, Dallas, Arlington and beyond.