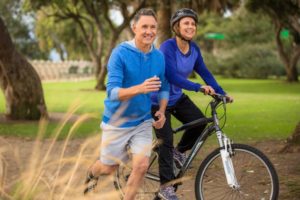 Running, lifting weights, playing sports, yoga, CrossFit—there are so many different ways to exercise, and they're all great for your body and your mind. However, do you ever feel pain or sensitivity in your smile while you're participating in your favorite activity? This uncomfortable problem can be annoying, or it might be a significant issue if it's keeping you from your workout! Read on to learn more about your tooth pain and why your smile may be hurting while you exercise.
Sensitivity to Cold
Some people have tooth sensitivity when it comes to hot or cold temperatures. Do you ever feel a strange sensation when drinking a hot cup of coffee or biting into an ice cream? This same sensitivity could be occurring when you're running or doing other outdoor exercise—the weather can cause discomfort in your smile. Additionally, breathing hard during your workout can cause cold air to trigger tooth sensitivity.
Bruxism
Bruxism may sound like a rare disease, but it's an issue that affects millions of people across the globe. You might know it as teeth grinding. This problem typically occurs at night, wearing down your enamel in the process. Bruxism can also happen when you're stressed or working hard. Do you grit or clench your teeth when running up a hill or lifting weights? If so, there's a good chance your teeth are sensitive during exercise due to bruxism.
Sinus Problems
In some cases, when your teeth hurt, it may not even have anything to do with your smile. On occasion, a sinus infection can end up causing your toothache. Your sinuses are right behind your cheeks, eyebrows, and jaw, and they can cause pain when an infection develops. Sometimes, running and other workouts cause sinus inflammation, which can lead to discomfort in your mouth. By treating your sinus infection, you should be able to relieve your tooth pain. If the sensation persists, contact your dentist for treatment.
Different Oral Health Issues
Your sensitive teeth might also be a sign of conditions like gum disease. This is an infection and inflammation of the gums that can cause damage to your smile. It can eat away at your gums, causing recession, which exposes more sensitive parts of your teeth that are usually protected under the soft tissue. When exercising, blood flow increases, which makes inflammation in the mouth worse and causes your teeth to hurt. Gum disease should be treated as soon as possible so you don't put yourself at risk of developing additional problems like permanent tissue damage, tooth loss, or an increased possibility of overall problems like heart attacks and strokes.
Tooth pain doesn't have to be something you deal with while running or pumping iron. Now that you know more about the potential causes of your sensitivity, contact your dentist to bring the comfort back to your smile.
About the Practice
At 21st Century Dental & Sleep Center, we have a team of 4 experts who combine their knowledge and training to offer a wide range of dental services for patients of all ages. We offer everything from tooth-colored fillings to dental crowns and fluoride treatment for tooth sensitivity. If you have any questions, we can be reached through our website or by phone at (972) 255-3712.