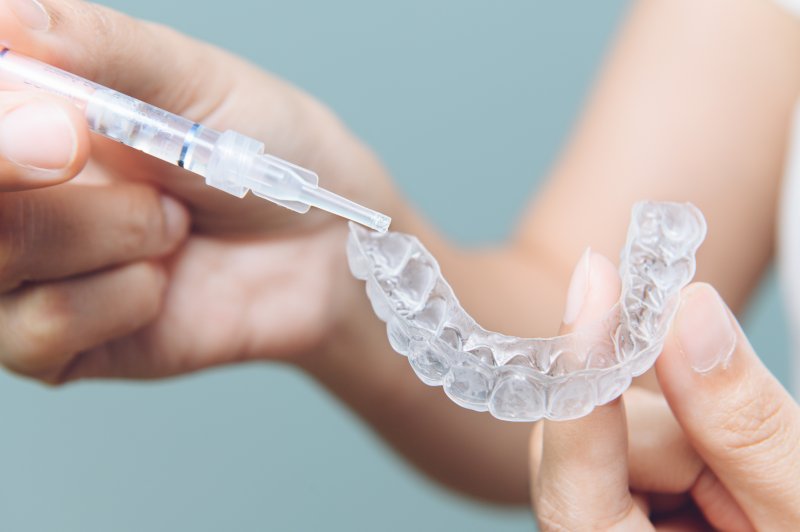 If you've spent any time at all in a pharmacy recently, you've probably walked past the rows and rows of over-the-counter whitening products, many of which are considerably cheaper than what you'd get from a dental professional.
While the prospect of getting a whiter smile for a low cost may sound appealing, you should know that many of these DIY aligner kits come with hazards if you use them improperly. Here's how they can be a little bit dangerous.
The Dangers of Overuse
One of the benefits of a professionally crafted tooth whitening kit is that the bleaching solution will be tailored to your exact needs, meaning that they'll be neither too strong nor too weak. However, DIY teeth whitening kits don't have the same guarantee.
If you use too much of a DIY whitening solution in an attempt to get professional-level results, the whitening gel may potentially penetrate too deeply into the enamel and irritate the root pulp. This leads the teeth to become exceedingly sensitive, causing discomfort when exposed to hot or cold temperatures.
Why Would I Be Tempted to Use Too Much?
While it's possible that a DIY whitening kit could be too strong for you, this isn't actually all that common—the real problem is when they're too weak. When people try DIY whitening treatments and don't get the results that they're looking for, it's common for them to use the treatments for too long, either leaving on the whitening trays longer than directed or continuing the treatment for months and months at a time.
This is where the worst whitening sensitivity comes from, and where the real hazards of DIY solutions lie.
Other Problems With DIY Products
While sensitivity is the most common problem that people run into when using DIY whitening kits, it is far from the only one. Another big issue comes from the lack of an exam associated with DIY whitening kits.
If you have tooth decay or cavities that you aren't aware of, the whitening gel may penetrate too deep and cause substantial discomfort. For this reason, professional dentists will perform a thorough exam before beginning any kind of whitening—however, DIY whitening kits obviously don't come with a similar guarantee.
If you want to get a whiter smile as safely as possible, there's really no substitute for professional whitening!
About Our Practice
Welcome to 21st Century Dental of Irving! We first opened our doors nearly 40 years ago, and since then we have been able to help thousands of patients get healthier, more beautiful smiles. We have furnished our office with the latest in dental technology, but we also take a personal approach so that people can feel at home for the duration of their stay with us.
If you have any questions about teeth whitening, we can be reached at our website or by phone at (972) 255-3712.