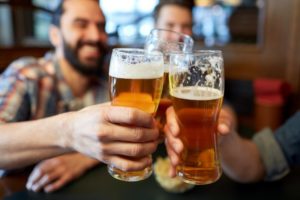 St. Patrick's Day is officially just around the corner, which means lots of fun, family, friends, celebration, and of course, beer! While many are looking forward to the "lucky" traditions surrounding this holiday, it can actually be unlucky for your teeth. In fact, dentists see an increase in appointments by an average of 64%. Whether it's bar fights, alcohol-induced accidents, or not using teeth properly, it's important to protect your smile so you can avoid a dental emergency. Read on to get some quick and easy tips for having a safe St. Patrick's Day!
Beware of Green Beer
St. Patrick's Day brings the famous green beer to chain restaurants and local pubs across the country. While this funny tradition may seem like the perfect way to enjoy the holiday, it can actually bring harm to your smile. Just a few sips can stain your teeth green. While this won't be permanent, heavy consumption of green beer and other colored liquids will darken and discolor your grin.
Watch Out for Stouts
Stouts, an Irish favorite for beer, are incredibly popular on St. Patty's Day. However, because these beers contain roasted malts and barley, their color is much darker, making it more likely that you stain your teeth. Their concentrated, dark color rubs off easily on tooth enamel, plus stouts are often brewed with dark berries or plums for flavor, adding to the overall color of the drink.
Drink Lots of Water
Hydration is key when it comes to your oral and overall health in general. Water promotes saliva flow and helps wash away lingering plaque and bacteria that are living in your mouth. That said, water intake is even more important on St. Patrick's Day because it can prevent the liquids and foods you consume from staining and damaging your teeth. Additionally, dry mouth, which is a common side effect of alcohol, promotes bacterial growth – yet another reason to make sure you're drinking lots of H2O.
Don't Forget About Dental Hygiene
During all the hoopla, it can be easy to forget about your at-home oral healthcare. However, this is precisely the time to make sure you're doing all you can to keep your teeth clean. Make sure that you're brushing twice a day for two minutes each session. Also, floss to remove lingering food and snacks from in between your smile. For an extra layer of freshness, and to prepare for the go-to "Kiss me, I'm Irish" line, use a nonalcoholic mouthwash to clean hard to reach areas of your mouth!
Ready to have a fun and safe St. Patty's Day? It's easy as long as you follow these simple yet effective tips!
About the Practice
At 21st Century Dental & Sleep Center, we have a team of 4 expert dentists who combine their training and passion to provide the best dental care for their patients. They have all the emergency dental services you need to get out of pain and back to smiling if an urgent situation occurs. To schedule an appointment, contact us through our website or by phone at (972) 255-3712.