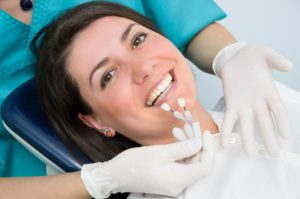 Everyone has something they're afraid of at least a little bit. For some people it could be spiders, for others it could be snakes. It doesn't have to be an animate object for you to be scared of. Take dental anxiety, for instance. There are people out there that do suffer anxiety when they go in for a dental appointment. Maybe it's the sound of a dental drill that haunts them, or it's a certain smell that a dental office has that gets them going. Whatever the case, we want to calm any fears that you or anyone you know may have. The important thing that dental phobia sufferers don't understand is that while they may be fearful of coming to us, our only goal is to improve their oral health and their smile through gentle practices. We don't want to hurt anyone — that isn't the point of going to a dental visit. When you come to our office in Irving, TX, we can offer you a host of sedation dentistry services that can leave you relaxed and comfortable throughout any procedure you receive. Don't believe us? You will

What Exactly is Sedation Dentistry?
It's basically help for people who suffer from dental anxiety more than others. Like, to the point where they refuse to receive any treatment at all. This doesn't bode well for their overall health.
Typically, there are three types of sedation dentistry techniques that are used:
Minimal
Moderate
Deep
General
Each one administers a certain amount of anesthesia that is meant to keep you conscious but out of it. Depending on how comfortable you are with "not being with it" will depend which method is used.
There are plenty of benefits to choosing sedation dentistry:
You can overcome the fear and anxiety of going to the dentist in one visit
There's no pain you have to worry about
The procedure can last longer, which means less appointments
It's a major money saver as it means less procedures and more money in your pocket
As you can see, there are plenty of reasons to opt for sedation dentistry. We don't want anyone choosing not to treat dental problems simply because they're too scared to come to the office. That's hogwash. We can help you get through any procedure, all it takes is a simple phone call to our office.
Schedule an Appointment to Receive Treatment
There's only so much we can do from our end, the rest is up to you. We highly advise you to seek help from us if you're one of those patients that's a little nervous about coming to see us. You'll see in no time that sedation dentistry can be your friend when there's nobody else around to help. We want to give you the help you need. We serve everyone in the Irving, TX area, including Dallas, Las Colinas, Fort Worth, Arlington, Grand Prairie and beyond.