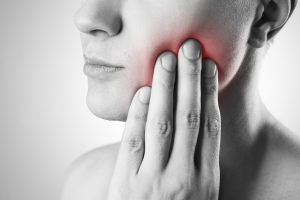 If you have just had your wisdom teeth taken out or are preparing for the procedure, you are certainly not alone. Some estimates say that around 5 million patients in the United States will undergo wisdom teeth removal in 2018. The wisdom teeth usually do not develop until the late teens through adulthood — and when they do, they can cause serious issues with oral health. Having oral surgery in Las Colinas to get them removed is a wise decision.
Wisdom tooth extraction is a routine procedure, but it can also present certain risks. After the surgery, you are at-risk of one complication in particular: dry socket. When the tooth is removed, the empty socket exposes the nerves and bone that were once protected by the root. A blood clot will form — a crucial protective layer that will ensure the healing process is smooth and as comfortable as possible. But, if the clot is disturbed, then you have dry socket.
Risks for Dry Socket
Some people are at a higher risk for developing dry socket than others. The risk factors for dry socket include:
Smoking and tobacco use, as nicotine reduces blood flow and slows healing. Patients should refrain from smoking until they have fully healed from the wisdom teeth procedure.

People who take certain medications, like the birth control pill, are at a higher risk of developing dry socket.

Patients who are over the age of 30, as healing times are typically longer for older patients. The earlier, the better with any oral procedure.

People who do not take care to brush and floss gently after the procedure.

Patients who use a straw too soon after the extraction are very likely to disturb the area and experience a dry socket as a result.
What to Do If You Have Dry Socket
You are likely to feel serious discomfort if you have a dry socket. You can compare this pain to what you experience if you have tooth sensitivity to heat and cold — but it's more intense. If you look at the treatment site, you may be able to see the exposed bone after you have a dry socket.
What do you do next? Get in touch with your dentist or oral surgeon right away. Fixing the problem is necessary for speeding healing and getting you out of pain. A special dressing can be used to cover the exposed area to ease discomfort and help you return back to positive oral health.
To conclude, wisdom tooth removal is a routine procedure. While it is uncomfortable, having a dry socket is not all that unusual either. Seeking a solution right away is VIP for your continued health and wellbeing!
About the Practice
21st Century Dental & Sleep Center offers comfortable wisdom teeth extractions in Las Colinas from an in-house oral surgeon. If you are experiencing pain in the back of your jaw or would like to discuss more about the risk of dry socket and how to prevent it after the procedure, you are invited to contact the office at 972-255-3712.