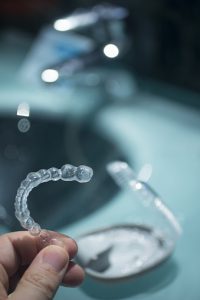 If only there was a world where braces were clear and nobody else noticed as your teeth were placed in their rightful positions. Wait a second…that technology is available! Introducing Invisalign, the latest way to straighten teeth under the cloak of invisibility. It's all the rage with cosmetic patients everywhere. In the past, metal braces were the only treatment choice among orthodontists and dentists alike. There have been countless horror stories from patients who had to endure the pain and discomfort metal braces had on their mouths. Now, Invisalign has taken the straightening script and flipped it on itself. This is the new way to straighten teeth and everyone has been noticing. It's the most popular among adults and teens and for good reason. Our office in Irving, TX offers this exciting therapy for all sorts of patients, but it isn't for everyone. The only way to know for sure is by visiting with our dental experts.

"Tell Me More About Invisalign"
It's the new-age straightening treatment. There are all sorts of advantages to choosing Invisalign over other treatment. For instance, let's start with the most obvious benefit — the clear aligners. What else can be said except for how convenient it is to straighten your teeth without anyone else noticing. IF everyone could receive this type of treatment, they would choose it in a heartbeat. People who have had braces can attest to this, but it can be embarrassing to smile with a mouth full of metal. When you have Invisalign, you can smile without anyone noticing you're wearing anything. How cool is that?
It doesn't stop at the clear aligners. There are all sorts of other advantages that Invisalign has over traditional metal braces:
You can take the aligners out whenever you feel like it
You can eat your favorite food again
Enjoy the comfort that smooth plastic provides
Spend more time doing other things and less time in our office with fewer appointments
All sorts of dental issues can be addressed at once including crowding, crossbite, spacing and more
Invisalign can bring you the comfort you need and the beautiful appearance you want with a smile that's worth a million bucks. Are you ready to give your smile the treatment it deserves?
Schedule an Appointment Today
If you think Invisalign is right for you, give our office in Irving, TX a call. We're happy to serve everyone in and around the area, including Carrollton ,Coppell, Grapevine, Dallas, Highland Park and beyond.