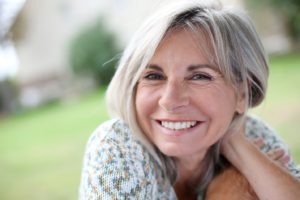 When it comes to replacing missing teeth, dental implants are the name of the game. And if you've just received implants to restore your own lost pearly whites, congratulations! However, it's now up to you to ensure their longevity and effectiveness by taking great care of them. And believe it or not, one way of doing this is getting plenty of vitamin D. Keep reading to learn more about how vitamin D can boost the lifespan of your implants and provide your smile with other healthful benefits, along with some tips for getting more of it.
How Vitamin D Boosts the Success Rate of Dental Implants
Dental implants are so effective because they're able to restore your lost teeth in terms of look, feel, and functionality. But this is also greatly dependent on your willingness to take care of them—which is where vitamin D comes in handy.
Vitamin supplements such as vitamin D play a large role in fostering bone and joint health, which becomes more important the older we get. Not only do they encourage healthy bones, but they also lower the chances of developing diseases like multiple sclerosis, heart disease, and rheumatoid arthritis. If your dental implants are unable to successfully fuse with your jawbone, your implants will fail. That said, vitamin D will help foster this union between implant and bone and encourage long-lasting implant success.
But better yet, vitamin D also promotes gum health, helping to produce compounds which reduce bacteria levels in the mouth. And unless your gums are healthy, your implants don't have a very good chance of lasting long! This means that consistent oral hygiene is a must. But given the many oral health benefits of vitamin D, it's also wise to ensure that you're getting enough of it—it's certain to boost the success rate of your dental implants.
Tips for Getting Plenty of Vitamin D
Fortunately, there are several easy ways to get vitamin D! Consider the following tips:
Get plenty of sun – Sunlight is an excellent source of vitamin D—spending roughly 20 minutes in the sun daily should give you more than enough vitamin D.
Eat nutrient-rich foods – Many foods and drinks naturally contain vitamin D; opt for things like salmon and tuna, orange juice, egg yolks, fortified cereals, and more.
Consider taking a vitamin D supplement – Your provider can recommend over-the-counter supplements that can boost your vitamin D levels.
Providing your body with a sufficient number of vitamins and nutrients is a good idea in general—but if you have dental implants, you will benefit even more from getting plenty of vitamin D. That said, incorporating these tips into your lifestyle will help to ensure that your new implants are here to stay and that your smile is happy and healthy for the foreseeable future.
About the Practice
21st Century Dental & Sleep Center is honored to serve the dental needs of Irving and the surrounding area under the leadership of five skilled experts: Dr. Kent Smith, Dr. Jeff Roy, Dr. Allison Veytsman, Dr. Ashley Bristow, and Dr. Alon Shalev. The practice is pleased to offer a wide range of available services including dental implants. If you have any questions about dental implants or would like to schedule a visit, don't hesitate to contact the practice online or by phone: (972) 255-3712.