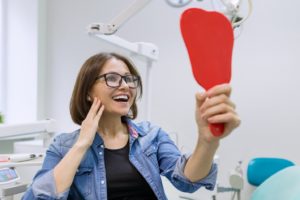 Countless millions of people would like to change the way their teeth look. Are you among them? If so, you may be wondering what the best treatments are to address your specific concerns. Read on below to learn about the services that are frequently used to correct common cosmetic dental flaws.
Discoloration and Stains
Almost everyone has at least a degree of staining on their teeth. Some individuals even suffer from severe discoloration that arises from medications, overuse of fluoride, or other causes.
Often, a professional teeth whitening service is the best way to get rid of stains. Whitening formulas use powerful ingredients that penetrate enamel to break up pigment molecules. Of course, they are not ideal for all types of staining. For certain severe forms of discoloration, it might be best to cover the problem with dental bonding or veneers.
Misalignment
Crooked teeth are more than just unsightly; they can also pose a threat to your oral health. Fortunately, most mild to moderate cases of dental misalignment can be corrected with Invisalign. Instead of using ugly brackets and wires to shift the teeth, Invisalign uses a series of discreet clear aligners that gradually move the teeth toward their proper positions.
If your misalignment is very minor, you might not need orthodontic treatment at all. Veneers are sometimes able to hide certain orthodontic issues, such as small gaps between the teeth.
Irregularly Shaped Teeth
Do you have one or more teeth that disrupt the symmetry of your smile? Whether it naturally has an odd shape or became that way due to circumstances, you may need a veneer to cover it. A veneer can hide the entire front-facing surface of an unsightly tooth, enabling it to fit in flawlessly with the surrounding dentition.
Chips, Cracks, and Breakage
Broken, chipped, and cracked teeth are more than an aesthetic issue. Such teeth may have jagged edges that irritate nearby tissues. They may also be more vulnerable to infections and sensitivity than undamaged teeth.
For a chipped or cracked tooth, dental bonding may be the easiest solution. It uses a tooth-colored resin to fill in cracks or reshape a chipped tooth. If the damage to a tooth is particularly severe, however, bonding or even a veneer may not be enough to renew its appearance. You may have to get a porcelain crown to completely cover the entire portion of the tooth that is above the gumline.
Are you ready to say goodbye to common cosmetic dental flaws and start enjoying your ideal smile? Talk to your dentist. They will recommend a treatment that is in line with your aesthetic goals.
Meet the Practice
The team of dentists at 21st Century Dental of Irving offer a wide range of treatments that have the potential to enhance patients' smiles. Whether you are looking to correct minor imperfections, or you are interested in a total smile makeover, we are ready to answer your questions and get you on the road to your dream look. Contact us at 972-255-3712.