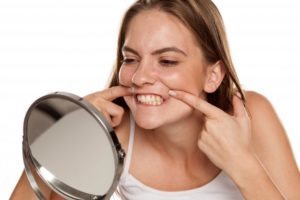 The world is full of endless types of food and cuisines, and there might come a time during your culinary escapades when you experience debris stuck between your teeth. And it might not always be food; sometimes other types of objects can become stuck in the gaps between your pearly whites. But when this happens, how should you go about handling it? Here are three easy-to-follow steps from your emergency dentist.
Step #1. Identify the Object
The first thing you need to do is remain calm and attempt to identify the object; once you know what it is, you'll have a better understanding of how to remove it—or you'll know if you need the assistance of an emergency dentist. Look inside your mouth and see if you're able to detect the source of the issue. If not, think about everything you've eaten recently: was there anything that could've easily become stuck, like popcorn? Remember, it's also possible for things other than food to become trapped in your teeth, so carefully consider everything.
Step #2. Attempt to Remove the Object & Tend to Your Mouth
You can attempt to remove the object if it's something like food debris as long as you're gentle; use a dental pick, waxed floss, or a water flosser, as these items are specifically designed for these situations. Do not use a toothpick, fork, or anything else metal or sharp as they can unintentionally lead to injury! Your tongue can also be used to help dislodge food debris. It's also wise to gently rinse your mouth with a saltwater mixture—this can prevent infection while simultaneously breaking up the debris between your teeth.
Step #3. Contact Your Dentist
If you're unsure about what the object is, you're unable to safely remove it yourself, or you're in pain or discomfort because of the object, schedule an appointment with your dentist as soon as possible! They're the best person to handle the situation and can ensure that there aren't any short or long-term problems that you'll have to worry about. It's also worth noting that the longer an object remains stuck, the more likely a serious problem is to develop because of it.
As you eat, drink, and smile your way through life, you might encounter pesky objects or bits of debris that find temporary refuge between your teeth. But when this happens, you can easily follow these steps and ensure that your smile's health and beauty aren't compromised.
About the Practice
The team at 21st Century Dental of Irving is thrilled to serve the dental needs of patients and families in the DFW area. They offer a wide range of preventive, cosmetic, and restorative treatment options to help keep your smile white and bright. They also offer emergency dentistry. If you have any questions about the article or would like to arrange a visit for you or a loved one, feel free to contact the practice online or by phone for assistance: (972) 885-3510.