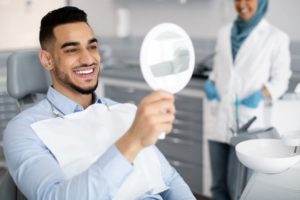 Are you plagued by a "gummy smile"? Many people feel self-conscious because they have excess gum tissue that makes their teeth look short, or because they have an uneven gumline. A procedure known as gum recontouring can help. But how much does gum recontouring cost? Read on below to learn some basic financial information related to this procedure.
The Average Price of Gum Recontouring
Gum recontouring can cost anywhere from a couple of hundred dollars to a few thousand dollars. Why is the price range so wide? The cost depends largely on the extent of a patient's procedure. For example, someone who wants to get their gums reshaped near just one tooth will end up paying much less than someone who wants to have the procedure performed on all of the teeth that are visible when they smile.
When you visit your dentist for a consultation, they will be able to provide you with a cost estimate based on your unique case. If necessary, they might be able to adjust your treatment plan in accord with your budget.
The Purpose of the Procedure Matters
Often, gum recontouring is purely for aesthetic purposes; it can make your smile look more proportionate. If the primary reason for your procedure is to enhance your appearance, your dental insurance is extremely unlikely to cover it.
In other cases, gum contouring offers significant oral health benefits. For example, it might be necessary prior to the placement of a restorative crown. If your gum recontouring is deemed important for your oral wellness, your dental insurance might cover a portion of its cost. It may be classified as a major procedure, so around 50% of its price could be covered, up to the amount of your policy's annual maximum.
Consider Additional Care
Often, gum recontouring is just one part of a treatment plan. For example, you might want to be sedated during your procedure. You might also plan to get veneers, crowns, or teeth whitening after your gums are contoured. When you are budgeting for your dental care, be sure to think about all of the services that might be involved in helping you reach your goals. Your dental team can help you crunch the numbers.
Help to Afford Gum Recontouring
If you cannot afford to pay for the entirety of your treatment upfront, ask your dentist if they accept financing through a company like CareCredit or Lending Club. Often, these third-party financiers provide low-interest payment plans for qualified patients.
Gum recontouring is not a cheap service, but it is affordable for most patients who want it. Ask your dentist about your payment options so you can get started on the path to your ideal smile.
Meet the Practice
21st Century Dental of Irving is proud to offer laser gum recontouring as one of our many cosmetic services. If you would like to enhance the look of your smile, we are ready to consult with you and provide candid pricing information. Contact our team at 972-255-3712.