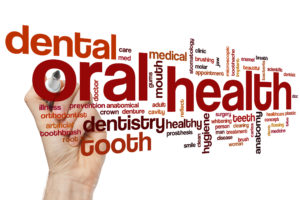 Talk of social distancing and preventive health measures have been in the news a lot lately. As communities grapple with the Coronavirus pandemic, governments and health experts warn that older people and individuals with compromised immune systems are at greater risk of being affected.
Our immune systems are designed to protect us from all sorts of threats to our health, from viruses to bacteria to parasites. While all the systems in the human body are closely interlinked, not many people understand the connection between oral health and the immune system. Keep reading below to discover why practicing good oral hygiene is an important way to maintain healthy immune responses.
How Oral Bacteria Enters the Body
The majority of health problems linked to the mouth start with oral bacteria. Every time you eat, tiny food particles are trapped in the mouth, where bacteria can feed on them to grow and produce harmful acids.
If you do not regularly brush and floss your teeth, bacteria can grow out of control and cause both tooth decay and gum disease. Gum disease, especially, is linked to a range of serious health problems.
One symptom of gum disease is inflamed tissue surrounding the teeth. Scientists believe that harmful oral bacteria can enter the bloodstream through inflamed gums and travel to other parts of the body.
How Oral Bacteria Triggers the Immune System
When harmful oral bacteria enters the bloodstream through diseased gums or places where teeth are missing, it sets off an immune response in the body. Specifically, it triggers the liver to release C-reactive protein, also known as CRP.
CRP is a substance that is released as part of the body's natural immune response to inflammation. However, if an individual allows gum disease to go untreated over a long period of time, then the body may continue to release CRP from the liver.
Prolonged release of CRP contributes to the stiffening and clotting of arteries, which increases the risk of heart attacks in both men and women. This extended immune system response can also be very dangerous for unborn children as well, as it triggers their immune system before it is fully developed.
How to Maintain Good Oral Health
As you can see, maintaining healthy teeth and gums is incredibly important both for your oral and overall health. Here are 3 basic oral health tips to keep your smile in excellent shape:
Brush twice a day for a full two minutes each time
Floss at least once daily
Visit a dentist in Las Colinas every six months for a dental exam and professional cleaning
Our bodies are made up of intricate, interconnected systems that work together to keep us healthy and able to enjoy daily life. Talk to your dentist for more preventive oral care tips to protect both your mouth and your immune system.
About the Practice
For over 30 years, families in Las Colinas, TX and surrounding communities have trusted the team at 21st Century Dental & Sleep Center with their oral care. With four experienced dentists on staff, the local practice provides everything from preventive checkups to dental implants, and more! To learn more about their extensive menu of dental services, visit the 21st Century Dental & Sleep Center website or call 972-255-3712.