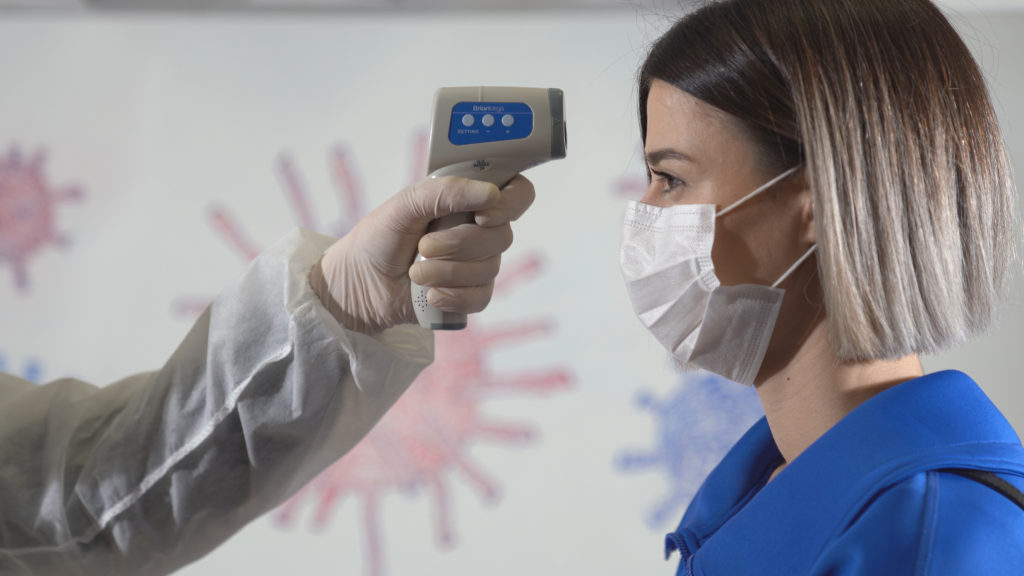 Your dentist in Irving may be open for regular appointments again, but that doesn't mean safety is any less of a concern. In order to protect their patients and staff from COVID-19, dentists across the country have been adopting numerous additional safety protocols. With these steps in place, you can be sure that you're walking into a safe, sterile environment whenever you arrive at the dentist's office. Below, you'll learn more about 5 of these crucial practices and why they're so important.
1. Temperature Checks for Team and Patients
To keep the dentist's office free of COVID-19, it's important to verify the health of team members and patients on a daily basis. Everyone that enters the practice must undergo a temperature check using a special contact-free infrared thermometer. When you receive this temperature check, you'll also need to answer a quick health questionnaire. This way, your dentist will be able to determine whether or not they need to be concerned about any illnesses you might be carrying.
2. Advanced Staff Training
Safety and health need to be the top priorities for everyone that works at a dental office. That is why all team members need to undergo a number of awareness and prevention programs that teach them about potential hazards they need to watch out for as well as the proper precautions to take to minimize the risk to themselves and others.
3. Virtual Waiting Room and Sequenced Patient Scheduling
The easiest way to prevent patients from spreading bacteria and viruses to each other is to minimize the chances of them coming in contact at all. When you arrive at the office, you'll check in from your car and wait there until the dentist is ready to call you to the treatment room. As an added precaution, dental practices are controlling their traffic by seeing fewer patients at a time.
4. Thorough Cleanings
After every appointment, the entire treatment area is wiped down and sanitized completely. This obviously includes any instruments that were placed directly inside a patient's mouth, of course, but every other surface in the area needs to be addressed as well. These cleanings happen regularly throughout the day, and a top-to-bottom deep cleaning is performed at night.
5. Protective Equipment
Naturally, everyone on the dental team – from the hygienists to the administrative staff – will be wearing masks. Anyone who works directly with patients' mouths will need extra protection in the form of face shield, disposable coats, and special hats.
These are just some examples of changes that dentists are making to their everyday operations. When you call to schedule your next appointment, don't forget to ask about the other precautions that have been put in place in order to minimize your risk for COVID-19 and other potential health issues.
About 21st Century Dental
Here at 21st Century Dental & Sleep Center, 4 dental experts combine their skills and areas of expertise to deliver a wide variety of quality treatments to patients in Irving. Your health and safety are of the upmost importance to us, and in light of the COVID-19 pandemic we have done everything we can to keep our office as clean and safe as possible. To schedule an appointment or ask about some of the changes we've implemented, visit our website or call (972) 255-3712.