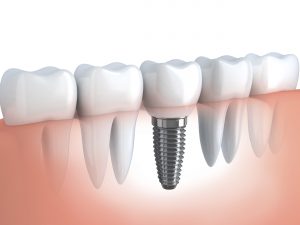 If you and Dr. Jeff Roy, Dr. Ashley Bristow, or Dr. Andrew Barnett, the implant dentists in Irving, TX, at 21st Century Dental, have concluded that dental implants are the appropriate option to replace your missing teeth, then you are on your way to restoring your beautiful and functional smile.

People experience tooth loss for a number of different reasons, including:
Severe tooth decay
Traumatic injury that causes a tooth to be avulsed, or knocked out
A cracked or fractured tooth that cannot be repaired and must be removed
Advanced periodontal disease
Congenital absence of a tooth
What is a dental implant?
A dental implant is a biocompatible metal post that is surgically set in your jawbone beneath the space of a missing tooth. As you heal from this oral surgery, the post and surrounding bone tissue will fuse together in a process called osseointegration (bone + integration). Made of titanium, the post is ideally suited to mesh with human bone tissue. As this integration occurs, a strong foundation is established, much like the root of a natural tooth. Moreover, the implant encourages healthy new bone tissue growth, so you don't run the risk of facial sagging that often occurs when teeth are missing or are replaced with prosthodontics that only rest on top of the gums, such as a bridge or denture.
The Dental Implant Procedure
When you come to the state-of-the-art office of 21st Century Dental and Sleep Center, we will first make sure you are completely comfortable and relaxed. We understand that such a procedure can make some patients anxious, which is why we offer three kinds of sedation dentistry: nitrous oxide (laughing gas), oral conscious sedation and IV sedation. Please don't hesitate to speak to one of our dentists prior to your procedure if you would like to know more about sedation dentistry for implant dentistry.
Once you're comfortable, one of our implant surgeons will administer a local anesthetic to numb the site. Then, the dental implant is strategically positioned in your jaw to provide the best support for the tooth restoration that will eventually be attached to the post.
Some soreness is to be expected after implant surgery. This discomfort can usually be relieved with an over-the-counter pain medication. After several months of healing, you'll return to our Irving, TX, dental practice so we can begin the process of creating your custom tooth restoration. With impressions of your mouth and other imaging of your bite, we are able to create a lifelike porcelain crown.
Call Our Office Today
If you would like to know more about how a dental implant can restore your smile and oral health, then contact 21st Century Dental & Sleep Center in Irving, TX. We serve everyone in the Irving, TX, area, including Dallas, Las Colinas, Fort Worth, Arlington, Grand Prairie and beyond.