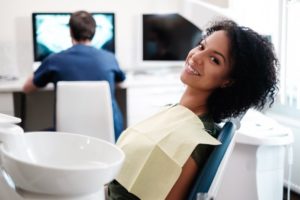 Life can get busy, so of course you've probably gotten used to shifting your schedule around. One of the appointments that you may count on moving to free up some time is your dental checkup. Since it's probably not your favorite activity on the calendar, it can be easy to skip your routine appointment. However, these regular visits are much more important than may you think. In fact, serious health issues can develop without seeing your dentist. That's why you should use these easy tips for scheduling and keeping your dental appointments!
Schedule Your Visit While at the Dentist
In your busy schedule, it can even be a daunting task to set aside a few minutes and book your next dental appointment. That's why the easiest way to ensure that you always have your next visit on the calendar is to schedule it while you're at the dentist's office. This begins a never-ending cycle of always having your next dental visit booked, and you won't have to worry about contacting your dentist to schedule your next appointment.
Set Reminders Immediately
It's easy to forget or lose track of your dental appointment, which is why you should put your next visit in your calendar on your phone or whatever you check routinely. Then, you can get notifications leading up to your appointment and on the day of, so you never miss it. By booking your visit and marking it in your calendar at the same time, you're setting yourself up for success.
The Importance of Routine Dental Visits
Part of making and keeping your appointments is understanding why they're so important to begin with. In fact, some patients purposely skip these visits because they are anxious or want to save money. However, preventive checkups and cleanings actually protect you from more extensive and expensive treatments in the future by catching any problems early on. This helps anxious patients avoid spending more time in the dental chair while also helping anyone on a budget skip pricier treatment options.
Taking advantage of your dental insurance is another reason to never skip your appointments. Your dental insurance benefits reset after each year, which means if you don't use them, they're gone forever. Since most insurance providers cover routine checkups and cleanings 100%, these visits are the easiest way for you to maximize the benefits you already pay for.
Remember these tips to make and keep your routine dental visits—they're one of the most important appointments you'll have on your calendar all year!
About the Practice
At 21st Century Dental & Sleep Center, we have a team of 4 experienced dentists who use their training and knowledge to keep patients smiling. They offer all the preventive services you need throughout the year, including thorough checkups and cleanings. For any questions, they can be reached through their website or by phone at (972) 255-3712.