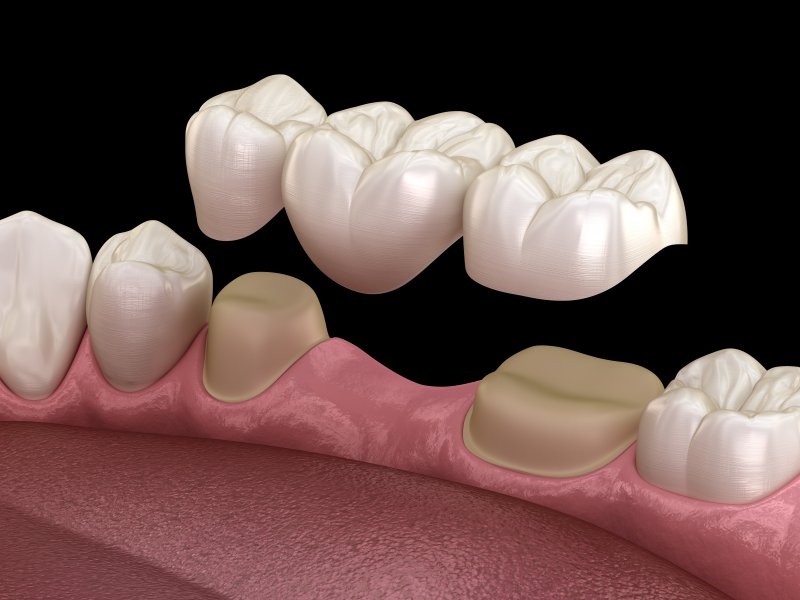 When you visit your dentist to ask about options for replacing a tooth, you're probably more worried about the gap itself than you are about the rest of your teeth. But the rest of your smile still needs to be considered when looking at different dental prosthetics, especially if you're thinking about getting a dental bridge in Irving. Bridges cover some of your natural teeth, and it's very important that you fully realize what that means – as well as what it doesn't mean. Keep reading to find out whether a bridge is enough to protect teeth from dental decay and infection.
What is a Dental Bridge?
The bridge itself is made of two crowns and at least one false tooth called a pontic, which will normally be made from a lifelike porcelain. This restoration fills up a gap in your smile by using remaining teeth to support the crowns. Doing so requires your dentist to remove a small amount of enamel from the healthy teeth. Bridges can be used in situations where either a single tooth or multiple teeth in a row are missing.
Can a Dental Bridge Protect Teeth from Infection?
One of the side effects of a bridge is that two of your teeth will be completely covered up. You may think this could help protect them from dental decay and infection, but unfortunately, these teeth are still vulnerable. In fact, because it's more difficult to keep them clean (since you can't brush most of their surfaces directly anymore), the potential of plaque buildup that can lead to oral health issues may actually be higher if you don't take the right precautions. If the tooth does become infected, then the bridge will have to be removed; thus, if you want to keep both your new teeth and your natural teeth safe, you need to take every step to avoid oral infections at all cost.
How Can You Take Care of Your Bridge and Avoid Infections?
Obviously, regular brushing and flossing are still a must; even if the crowns themselves can't be infected, the plaque that builds up on them could still lead to oral health issues if left alone. You also need to focus on cleaning the area beneath the crowns and the false tooth or teeth. This might involve using an oral irrigator, which directs a small stream of water to clean areas in the mouth that are hard to reach.
Before your bridge is placed, talk to your dentist in Irving about the care instructions that you'll need to follow afterwards. With a good routine, you can keep your teeth safe and your prosthetic intact for many more years to come. Don't let an infection leave you with a new space in your smile!
About 21st Century Dental & Sleep Center
Our compassionate dentists and staff at 21st Century Dental & Sleep Center know the importance of a complete smile and are ready to offer you a variety of tooth replacement options, including beautiful, durable dental bridges. We can also provide high quality care to help the restoration and the teeth it rests on last. To schedule an appointment at our practice, visit our website or call (972) 255-3712.