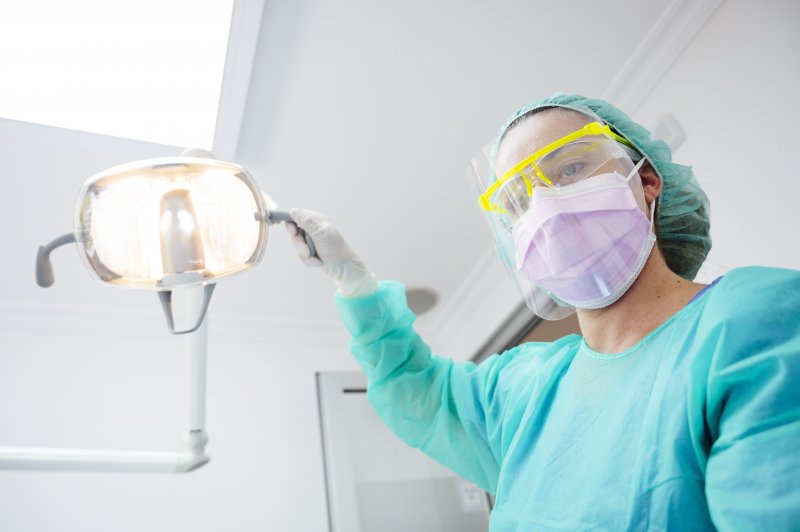 Dentists work with many patients' mouths throughout the day, so naturally basic safety precautions such as handwashing have always been important steps to take before any appointment. However, with the additional concern of COVID-19, your dental office has had to adopt new forms of dental safety protocol in order to treat patients without taking unnecessary risks that could spread an infection. If you're worried about your next appointment, you can take comfort in knowing that your practice is following these 4 steps to prepare for your visit.
1. Practicing Social Distancing
Social distancing has become the new normal, and it's just as vital – if not more so – at dental practices. When you walk into the reception area, you'll notice that there are fewer chairs in order to ensure that patients are kept further apart at all times. One-way traffic is also enforced to control the movement of people throughout the room. There are other ways that practices are limiting contact between individuals, such as allowing patients to check in from their cars using their phones or sequenced patient scheduling (which simply means that fewer patients are being seen at a time).
2. Daily Health Checks for Team
In order to keep patients safe, dentists have to ensure that all of their team members are in excellent health every day. Everyone who works at the office must have their temperature taken at the start of the day, and they'll need to answer a series of questions. That way, appropriate action can be taken immediately if there's any possible sign of COVID-19.
3. Thorough Cleanings After Every Appointment and In the Evening
Cleanliness has never been more important to dentistry than it is right now. After every visit, all non-disposable dental instruments, equipment, and surfaces in the operatory must be completely sanitized and disinfected. Such cleanings will occur multiple times every day, but for maximum safety, a thorough top-to-bottom scrub down is performed every night to ensure that there's still a safe, welcoming environment to greet patients in the morning.
4. Masks, Face Shields, and Protective Coats
Dentists and hygienists were already required to wear face masks during procedures, but now even the front desk staff members will be using such protective gear. Additionally, any member of the team that directly works with the patient's mouth will need to wear a full face shield as well as a disposable protective coat.
There are numerous other protections in place to help ensure that patients can safely receive high quality dental care. If you're curious about other changes your dentist has made, or if you have any additional concerns you want to express, call your practice to learn more about exactly how they're working to protect your health while improving your smile.
About 21st Century Dental
Dr. Smith, Dr. Roy, Dr. Bristow, and Dr. Barnett all combine their skills and experiences here at 21st Century Dental & Sleep Center so that their patients can enjoy all kinds dental treatments in one convenient location. They take patient safety extremely seriously and are dedicated to keeping our Irving office clean and safe by following strict dental safety protocol measures. To schedule an appointment or learn more about the changes that have been made due to the COVID-19 pandemic, visit our website or call (972) 255-3712.