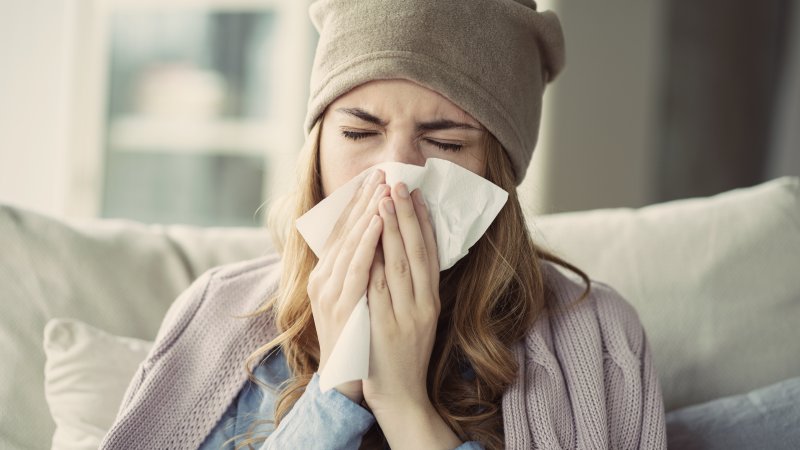 It's important to know how to take care of your body during cold and flu season – and of course, that includes your mouth. Even when you're already sick, you always need to take the time to take care of your teeth; ignoring your oral hygiene while you're under the weather could ultimately leave you with gum disease and other health issues to worry about. Read on to learn 3 ways you can protect your smile even while you're sick.
1. Don't Forget to Brush
When you're sick, you might be tempted to stay in bed and skip your regular oral hygiene routine. But of course, doing so will only give the harmful bacteria in your bacteria in your mouth more of a chance to attack the teeth and gums. Always take the time to brush thoroughly even if you don't feel well. You normally won't need to replace the toothbrush afterwards, as there's very little risk of being reinfected unless your immune system has been badly weakened. (That said, you should get a new toothbrush every 3 to 4 months, so it may be a good idea to go ahead and throw out the used brush anyway.)
2. Find Cough Drops That Don't Contain Sugar
A cough drop can be just the thing you need to soothe your sore throat, but take the time to check the ingredients. Some cough drops contain some form of sugar, and like other sugary foods, they put your teeth at risk. (This is because tooth decay occurs as a result of bacteria feeding on sugar and turning it into acid; this becomes more likely when the sugar remains in your mouth for too long.) Look for medicine that isn't sweetened by sugar.
3. Stay Hydrated
There's a good reason your doctor will tell you to stay hydrated if you're sick. Getting plenty of fluids can make all the difference while you're sick. One benefit is that it will prevent your mouth from becoming dry and uncomfortable; in this state, you'll be at a greater risk for cavities. Dry mouth can be a symptom of your illness, but it may also be a side effect of certain medications. Either way, you'll need to make sure you're drinking plenty of water. (You can also drink certain other fluids in moderation, such as sports drinks to replenish electrolytes or unsweetened tea to warm yourself up.)
If you have any other concerns about your mouth while you're sick, get in touch with your dentist; they'll have the expertise needed to help you make good decisions when it comes to oral health. Follow their advice, and you can avoid having to make an emergency dental appointment after overcoming your cold.
About the Practice
Here at 21st Century Dental and Sleep Center in Irving, we always go above and beyond to win your loyalty every time you visit us; we'll help you stay relaxed all throughout your visit, and we'll make it our goal for you to leave our office feeling well-served and appreciated. If you want to schedule a checkup or speak to one of our expert dentists about the impact cold and flu season might be having on your teeth, visit our website or call (972) 255-3712.