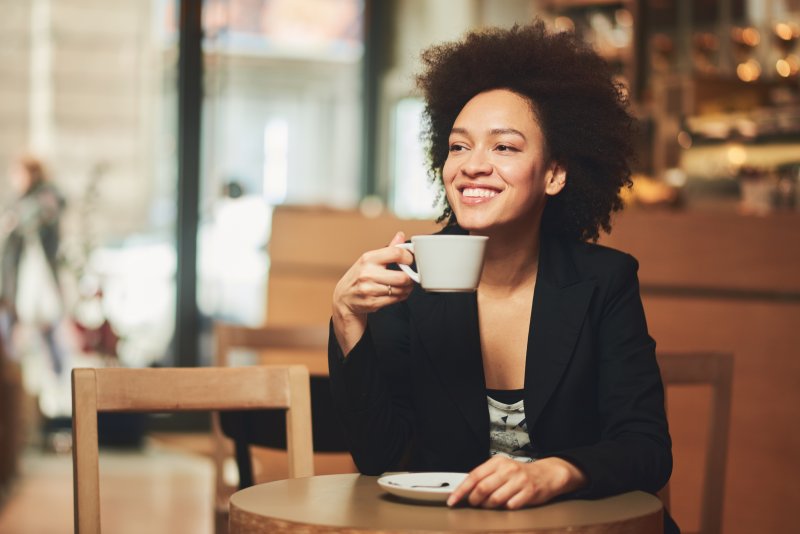 Drinking a hot cup of joe is something many people do to start their day. As an avid coffee drinker, you likely already know about the effects it can have on your teeth. Over time, the tannin in your coffee will turn your smile yellow. But if you have veneers, do you still have to worry about staining? Since they're stain-resistant, you may think that they won't change color. However, that's not necessarily true. Read on to learn more about how your daily habit can affect your pearly whites.
Can You Drink Coffee with Veneers?
Veneers are an incredibly popular cosmetic treatment. Each shell of dental-grade porcelain is biocompatible, meaning it won't injure the gum tissues and surrounding soft tissues in your mouth. Of all the veneer materials, porcelain is the most durable and the least likely to stain.
Of course, just because veneers are stain-resistant doesn't mean they're stain-proof. After years of drinking coffee, your new smile will eventually dull and become slightly stained. That's why it's crucial to take proper care of your veneers!
How to Prevent Staining
Even though veneers don't stain as easily as natural teeth, they can still get discolored over time. Fortunately, there are many ways you can prevent staining! Here are some tips to keep in mind:
Avoid food and drinks with staining agents. It's a good idea to reduce your intake of substances that are known for their staining effects, like coffee, wine, and tea. If you choose to indulge, make sure you use a straw so the liquid bypasses your teeth.
Don't smoke or use tobacco products. Smoking can stain the composite that attaches the veneer to your underlying tooth, causing the edges of your teeth to look brown. In addition, this poor habit can wreak havoc on your smile.
Practice good oral hygiene. Make sure you brush your teeth twice a day, floss daily, and rinse every day with an ADA-approved mouthguard to keep your mouth clean. These oral hygiene practices are a great way to maintain a bright and healthy smile!
Wear a mouthguard. If you regularly play sports or grind your teeth at night, consider wearing a mouthguard. Teeth that experience trauma or damage from injury can become discolored due to ruined dentin. When the dentin turns yellow, your veneer may appear a different color.
You don't have to forego your daily cup of joe just because you have veneers. However, being mindful of your consumption will help your smile stay bright for years to come!
About the Practice
At 21st Century Dental of Irving, we're passionate about helping patients achieve their very best smiles. From routine checkups to complex restorative treatments to veneers, we've got everything you need in one convenient location. To learn more about veneers, visit our website or call (972) 255-3712.