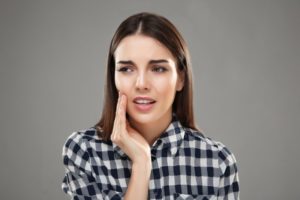 You may have experienced gum pain or irritation in the past, but do you know why it occurs? Plaque and bacteria build up without proper dental care, causing inflammation and infection. But is this what's also causing the bump on your gums? While this symptom may be alarming, it is typically not an urgent emergency. Read on to learn the top 4 most common causes as well as your treatment options.
#1. Cyst
Dental cysts are small bubbles that are filled with air, liquid, and other soft materials. These tend to form around the roots of dead or buried teeth. They gradually grow over time and rarely cause issues unless they get infected. If this occurs, we may notice pain or swelling in the affected area. If the cyst becomes big, it can put unnecessary pressure on your tooth and may need to be removed. Thankfully, the surgery is simple and straightforward!
#2. Abscess
A dental abscess will typically occur because of bacterial infections. It may feel like a soft, warm bump, and it will usually be painful. An abscess may show up due to infection in the gums or the root canal. It's often a sign that root canal therapy is needed. Common warning signs of an abscess include:
Throbbing pain that is sudden
Pain that gets worse when you lie down
Pain on one side of your face that spreads
Redness/swelling in your gums or face
As soon as you notice you have an abscess, contact your dentist right away for treatment. They will address the root problem and get you out of pain.
#3. Canker Sore
Canker sores are small mouth ulcers that can be annoyingly painful. They're caused by a virus, which leads to cold sores. You may have a canker sore if you notice symptoms like:
White or yellow spots with a red border
Severe tenderness
Flat or slightly raised bumps
Pain while eating and drinking
While most canker sores do heal on their own, you can apply over-the-counter analgesic to help with pain.
#4. Fibroma
The most common cause of a tumor-like bump on your gums is oral fibroma. These are noncancerous lumps that form on injured or irritated gum tissue. Usually, these bumps on the gums care caused by irritation from oral devices like dentures. You may also see fibromas:
On the sides of your tongue
Inside your cheeks
On the inside of your lips
Most of the time, fibromas do not require any treatment, however if it's very large, your dentist may recommend getting it surgically removed.
Don't let a bump on your gums send you into panic! Now that you know about some of the common causes of this issue, your armed with the information you need for a healthy and happy smile.
About the Practice
At 21st Century Dental & Sleep Center, our team of experts combines their extensive training and education to offer a wide range of services. Whether you need gum disease treatment, root canal therapy, or other options, we are ready to help! To schedule an appointment, we can be contacted through our website or by phone at (972) 255-3712.