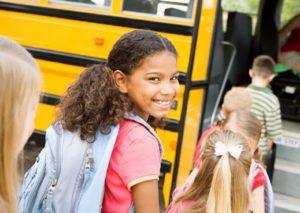 It's finally back-to-school season, and you and your little one are probably busily trying to get everything together that you need. But amidst the hustle and bustle of all the preparation, something to be mindful of is the possibility of your child experiencing a dental emergency at school. Here are four helpful tips from your emergency dentist to keep your child's smile healthy, bright, and at low risk of experiencing a sudden and painful dental emergency as they return to the classroom.
Tip #1: Replace Your Child's Toothbrush
The American Dental Association recommends that you replace your toothbrush every 3 to 4 months; and the same goes for your child's brush! Brushes with frayed bristles are more abrasive on your teeth and less effective at removing plaque from them and around the gumline. A good toothbrush can go a very long way towards preventing serious oral health problems from unexpectedly developing inside your child's mouth, so consider stopping by the dental care aisle while you're out shopping for school supplies!
Tip #2: Provide a Healthy Diet for Your Child
Anything that your child eats can have a large impact on their diet; so, providing them with a well-balanced diet can easily prevent dental emergencies. Consider plenty of vitamin-rich fruits and vegetables, lean proteins, complex carbs, and healthy fats. If you can, have your child avoid sugary or starchy snacks or carbohydrate-rich items, as they can fuel cavity-causing bacteria.
Tip #3: Ensure That Your Child Practices Sports Safety
Your child's teeth aren't invincible; so often, a little extra protection can go a very long way. Dental injuries like chipped, cracked, or even displaced teeth aren't uncommon in children, especially if they participate in sports and physical activities. Investing in a mouthguard for your child is a great way to prevent many of the teeth- and gum-related injuries that can occur during certain sports and games. You can also receive a custom-fitted mouthguard from your dentist that offers your child even more protection than the average mouthguard—though these are usually more expensive, the protection is often well worth the price.
Tip #4: Schedule Biannual Dental Visits for Your Child
It's important that your child visits their dentist twice a year for regular checkups and cleanings; these visits are what allows their dentist to clean their teeth of plaque and tartar. This actively helps to prevent oral health issues like cavities and gum disease, which can often escalate if left untreated. It also allows the dentist to inspect your child's mouth for any hidden, underlying issues—when it comes to oral care, prevention and early detection is key!
Your child's education matters greatly, and so does their oral health! That said, the two are more closely connected than you might realize. But following these tips will ensure that your child's smile looks and feels its best as your little one gears up for another great school year.
About the Practice
The team at 21st Century Dental & Sleep Center is proud to serve patients and families in Irving. The practice is fortunate to house five incredibly skilled specialists: Dr. Kent Smith, Dr. Jeff Roy, Dr. Allison Veytsman, Dr. Ashley Bristow, and Dr. Alon Shalev. Together they combine several years of experience to provide patients with an exceptional level of dental care! Their practice is pleased to offer many available services including emergency dentistry. If you or a loved one is suffering from a dental emergency, don't hesitate to call and make an appointment: (972) 255-3712.