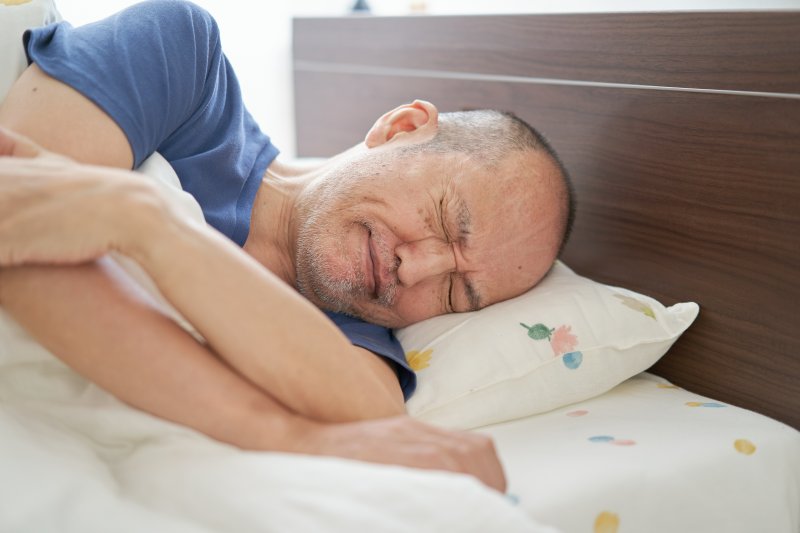 You're eager to replace your missing teeth. You know the benefits of dental implants and want to avoid all other tooth replacement solutions. Instead of worrying about frequent replacements, you can invest in a long-term solution that will give you greater functionality. But are dental implants possible with bruxism? If you're worried that your teeth grinding will keep you from enjoying life with permanent prosthetics, a dentist explains what you should do to protect your smile.
What Causes Teeth Grinding?
Teeth grinding or clenching, also known as bruxism, is commonly caused by poor bite misalignment or stress. When a person's bite doesn't properly align, it can create uneven pressure, resulting in chronic jaw pain and extensive wear and tear on a person's tooth enamel.
If stress is the culprit, an individual will need to find a way to reduce anxiety and worry in their life. When concerned about something personally or professionally, it can be taken out on teeth the moment stress rears its head. Not only can it cause significant problems in one's overall health, but it can also manifest by wearing down enamel and causing much pain throughout the jaw and facial structure.
Will Bruxism Damage Dental Implants?
Yes, bruxism can damage dental implants if a person is not careful. Although these permanent prosthetics are durable, they're not indestructible, which means they can suffer if too much pressure is applied continuously.
Osseointegration is a vital component of dental implant success, so if bruxism occurs, it can lead to dental implant failure because the posts are unable to fuse with the bone tissues.
While wearing dental implants, it is essential that patients talk to their dentist to explain the struggles they face with teeth grinding and clenching. A customized mouthguard can be created and worn at night to minimize the potential damage that can occur when teeth grind against one another while asleep.
Although there are many products on the market that others might recommend, a customized oral device will give patients the best chance of relieving the pain and enjoying a damage-free smile.
Ways to Protect Your Teeth
Apart from wearing a customized mouthguard while asleep, it is also essential to identify ways to manage stress, such as:
Reading
Going for a walk or incorporating daily exercise
Meditating or taking a long, warm bath
Talking to a counselor
It is also helpful to maintain a healthy diet and create healthy boundaries when it comes to things in one's life that can often build stress.
Don't discount the possibility of dental implants if you suffer from teeth grinding and clenching. Simply speak to your dentist to inquire about additional steps you can take to ensure the success and longevity of your new smile.
About 21st Century Dental of Irving
Dr. Kent Smith is a general dentist who also specializes in sleep medicine. Overseeing various practices throughout the Dallas/Ft. Worth areas, he is skilled and equipped to provide dental implants to patients looking to restore their smiles by replacing missing teeth. If you suffer from bruxism but want permanent prosthetics to restore your smile, visit our website or call (972) 885-3510 to learn how we can help.