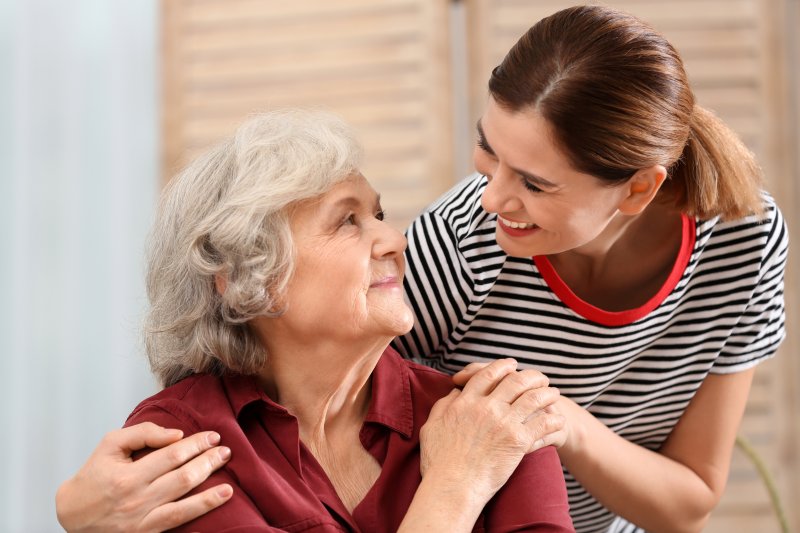 While brushing and flossing your teeth, you're likely mainly thinking about keeping your mouth and pearly whites clean. But did you know that practicing good oral hygiene can also help minimize your risk of developing Alzheimer's disease? Though this might sound unreal, recent studies and research is beginning to show a close relationship between your oral and cognitive well-being. Since June is Alzheimer's & Brain Awareness Month, here's how taking care of your teeth can help preserve your smile and brain.
The Link Between Your Mind & Mouth
It's easy to see that the vital organ that's closest to your mouth is your brain. Scientists have been researching these areas of the body for many years, and they've found something intriguing between the two regions. According to their findings, the oral bacteria associated most with gum disease (porphyromonas gingivalis) can typically be found in the brains of people who are suffering from Alzheimer's disease.
Of course, these studies are only presenting a correlation between these bacteria and Alzheimer's, and not a causation. Even so, due to the deep connection, many healthcare professionals are starting to recommend strict oral hygiene for those who wish to significantly reduce their risk. Though there is still much research to be done, the implications are astounding. If it's true that the same bacteria in gum disease is responsible for causing or making someone vulnerable to Alzheimer's, then there are already preventive methods available to lower people's chances.
How to Lower Your Risk of Gum Disease
With this knowledge, it's relatively easy to see how you can avoid these oral and cognitive issues. The main step you can take is to practice a well-rounded daily oral hygiene regimen, which will greatly reduce the number of harmful germs that can accumulate in your mouth. Not only will you protect yourself from problems like gum disease, but you might even protect your brain health in the process. Here are several ways to maintain a clean and healthy smile:
Floss every day or after each meal
Brush twice daily for two minutes with fluoridated toothpaste
Rinse with alcohol-free mouthwash frequently
Minimize how often you consume sugary treats
Visit your dentist every six months or if you notice symptoms of gum disease (like red, sensitive, or swollen gums that easily bleed)
Although it hasn't been established that gingivitis leads to Alzheimer's disease, practicing good oral hygiene habits can potentially keep both your mouth and brain safer in the long run. Speak with your dentist, and they'll be glad to help you maintain a healthier smile.
About the Author
Dr. Kent Smith has well over three decades of experience in the field of dentistry. He's a proud member of several prestigious organizations, including the International Association for Comprehensive Aesthetics, the American Academy of Craniofacial Pain, and the American Academy of Dental Practice Administration. If you wish to know more about the connection between brain health and gum disease, or you want to schedule an appointment, feel free to visit our website or call 972-255-3712.